July 2023
SERVING THE PROFESSIONAL
Improve Employee Retention Through Belonging
By Dr. Alice Burron
A desire to belong is a fundamental human characteristic. When employees spend over eight hours of the average 17 wakeful hours at work, a feeling of belonging at the workplace impacts how long they stay with the organization more than we realize. Read More.
---
What Florida Employers Need to Know About FL 1718: Embracing the E-Verify Mandate for Employers with 25 or More Employees
By Giselle Carson, Esq.
Starting July 1st, 2023, a new law, FL 1718, will reshape the landscape for employers across the state. This article provides an overview of the key sections of this 43-page law, ensuring you stay informed and prepared. Read More.
---
The ChatGPT Advantage: Revolutionizing HR Functions and Empowering Personal Success
By Stephen Lytle
As HR professionals in Florida, let's explore the myriad of ways we can harness the power of ChatGPT to better our personal productivity, as well as our roles in HR, all the while addressing potential concerns and advocating for responsible usage. Read More.
---
Burnout or Just a Daily Grind?
By Dr. Jaya Prakash
Work, family, life, daily grind, physical and mental health! All are competing for our attention. Expectations for employees and employers have shifted and, in some cases, increased even more. How do you know if you or your employees are on the brink of a burnout? We have some obvious, yet often ignored, early warning signs. Read More.
---
Peer Support: A Key Ingredient in a Mentally Healthy Workplace
By Kim LaMontagne
Implementing a peer support program normalizes the topic of mental health and substance misuse, by sharing the lived experience. It assures employees that they are not alone and provides a safe space where employees can share – free of judgment. Read More.
---
Villyge Supports the "Whole Person"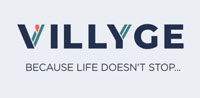 According to a recent Forbes article, employees now EXPECT empathy in the workplace. And according to the cited study, half of all employees feel they are NOT receiving it. Read More.
HR CONNECTIONS
Moment of Inspiration
"Don't be afraid to give up the good for the great." — Steve Fontaine
Provided by James Abeyta-Stevens, New Mexico State Council Director and MAC Rep for the Southwest Region
Find a Chapter Near You
HR Florida is a community of 28 professional chapters and a growing number of student chapters organized into 10 districts. Each month we bring you information from around the state so you can stay informed on upcoming meetings and conferences. Chapters work hard to provide timely, exceptional educational programs, often for recertification credits, and welcome you to attend as a member or as a guest! If you are not a member of a local chapter, visit 2023 Chapters & Chapter Presidents – HR Florida State Council to find a Chapter near you.
What's Happening in Your Local Area?
Check out the Chapter Community Calendar on our website!
If you are an affiliated chapter within the state of Florida and wish to post an event, please email Kathy Scott at Kathy.Scott@hrflorida.org.
Community Spotlight
By Nate Shannon, SHRM-SCP, SPHR, District 3 Director
HR Florida District 3 covers the areas of Ocala, Gainesville, and Jacksonville. Within the geographical boundaries of the district, we have three chapters: Ocala HRMA, North Central FL SHRM, and SHRM Jacksonville. Read More.
HR Florida Council Leadership Area Spotlight
By Kimmie Boulahanis, SHRM-CP, PHR, Federal Legislative Director
Whether you are connecting with your legislators when they are in their home office or attending a Day on The Hill with your local chapter, advocacy is a great way to ensure that your voice is heard and that real life experiences can be considered when shaping workplace policy. Read More.

ADVANCING THE PROFESSION
Earn Your SHRM Certification
HR Florida recognizes the importance of Human Resources professionals obtaining their SHRM certification. Obtaining a certification can be a valuable step for HR professionals to advance their career and demonstrate their mastery of the field. If you have been thinking about obtaining your certification, please visit HR Certification – HR Florida State Council.
SHRM Foundation's Human Resources Registered Apprentice Program
Are you challenged by finding entry level HR talent? Are you looking to diversify your HR team? Do you want to reduce turnover? Do you want to invest in talent and have a positive return on investment? The HR RAP can provide this and more! Read More.

---
Upcoming HR Florida Events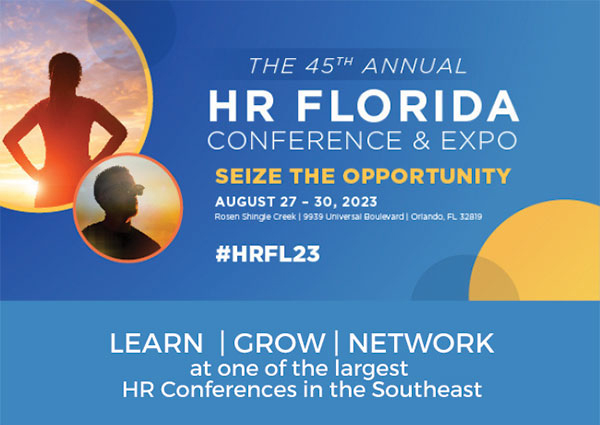 Interested in volunteering at this year's conference? Go to #HRFL23 Volunteer Interest Form.
---
Upcoming SHRM National Events
ADVERTISE HERE!
Fellow HR Professionals: Did you know sponsored content is 22 more times more engaging than display ads? Contact us today to learn how to get started.
HR Florida Review Magazine
Share your expertise as an HR professional with over 16,000 other HR professionals! Encourage colleagues to submit articles too. We are currently looking for content on topics ranging from Employee Relations, State & Federal Compliance, Inclusion & Diversity, Leadership, Organizational Development, & any other Best Practice Advice for HR Professionals.
Submit an article for our next issue!
---
HR Florida Newswire
Purpose: Share upcoming events, announcements, and recent news relevant to HR professionals and Chapter members.
Style: Brief, direct, summarized information (pictures appreciated).

Submission deadline: The 3rd Wednesday of each month, for the following month's newswire.
Format: Send submissions in Word format to Alan Bernstein at editor@hrflorida.org.
---
Mouth of the South Blog
Share your interesting stories/tips from the HR Profession.
Submissions: ONGOING

We hope you enjoy our selections of original content, local and national updates, and news you can use. Please let us know what you think! Send to communications@hrflorida.org. All comments are welcome and encouraged!