Peer Support: A Key Ingredient in a Mentally Healthy Workplace
By Kim LaMontagne, MBA
According to the National Alliance on Mental Illness (NAMI), "one of the most effective antidotes to stigma in the workplace is direct contact between peers."
Peer support can inspire someone to take the first step, provide a safe space to speak openly, dispel myths, illustrate that we are not alone, and illuminate a path to recovery. Peer support in the workplace is one of the most effective ways to create a safe space and encourage an open conversation about mental health. When someone steps forward and shares their own experience with mental health, it allows them to model a sense of hope to others that are still struggling.
In workplace peer support programs, employees are encouraged to talk to their co-worker before personal issues cascade out of control. Implementing a peer support program normalizes the topic of mental health and substance misuse, by sharing the lived experience. It assures employees that they are not alone and provides a safe space where employees can share – free of judgment.
Did you know that peer support in the workplace is also an effective way to encourage resilience?
According to Agarwal, "Peer support may protect employees from the potentially harmful effects of a range of stressors by bolstering an individual's resilience and consequently increasing personal well-being and improving their mental health." (2020)
Peer support is a key ingredient in a mentally healthy workplace.
Illustration of Peer Support in Action
In 2017 my Vice President asked me to address colleagues, at a work summit, and share my work on mental health and wellbeing in the workplace. At the time, my Vice President was unaware of my complete story. She just knew me as her 'high performer with a passion for mental health in the workplace.' With my heart pounding, my hands sweating and in a shaking voice, I faced my work family (my two vice presidents, 4 directors, my marketing team, human resources, and 20 colleagues in business development). I shared my entire journey with alcohol, depression, anxiety, and suicidal thoughts. The good, the bad, and the ugly.
You could hear a pin drop in that room, because I was their fearless leader and this was the first time my work family heard my truth. This was the first time they learned that I lived with a secret, felt ashamed, unworthy, and like an imposter, and feared asking for help. I shared my fear of being judged, losing my seat at the table and damaging my professional integrity, if I asked for help. At that time, I was 8 years sober (I'm in my 14th year now).
The Result
Eight of my own coworkers came forward and said, "I suffer too." They acknowledged living with depression, anxiety, ADHD, autism, alcohol misuse, shame and fear. Tears were shed, hugs were exchanged, and words of encouragement were spoken.
When one person speaks openly, about mental health, it creates a ripple effect and safe space for others to step forward. I helped 8 people that day.
Peer support is a two-way street. Not only do those offering the support gain empathy for others in their workplace, but they also experience an increase in self-esteem and confidence and gain a greater ability to cope with their own mental health problems.
The Power of Peer Support in the Workplace Is Instant
Peer support groups can be weekly, monthly, in person, virtual, or blended. Having someone on hand who can immediately offer support, through a shared experience, increases engagement in professional services, decreases absenteeism and presenteeism, and is a cost-effective approach to help promote and sustain a culture of wellness.
Identifying peer support champions is key. Peer support champions are the people who will evangelize the organization's commitment to mental health and well being. These are the people who are steady in their recovery and ready to give back to help others.
Characteristics of a peer support champion include:
Offers living proof / Is a role model for recovery
Encourages and celebrates wellness achievements
Is a companion, cheerleader, an advocate and an inspiration
Encourages self-advocacy and self-sufficiency
Knowledgeable about resources (employee, community and professional)
Carries no judgment
Creates a safe space for open conversation
The most important parts of developing a peer support group are consistency and identifying suitable peer support champions. Some employees may choose to engage with peer support immediately, while others may wait until they feel more comfortable. Consistency is key to ensure that peers are available when employees decide it's the right time to engage.
We don't stop being human between 9 and 5 and we don't leave our problems at the door when we enter the office. Many of us spend more time with our co-workers than we do with friends and family. It's only natural to lean on them for support. A new mom, overwhelmed and sleep-deprived confides in another new parent. A friend going through a divorce seeks out a friend who has gone through one herself. An employee experiencing depression speaks openly to a peer who has gone through the same thing.
These are all examples of peer support – sharing a lived experience in order to help each other get through it – and it has a place at work.
Do you have a peer support network in place in your organization? It's a key ingredient of a mentally healthy and safe workplace.
Peer support matters. Safe conversations matter. You matter.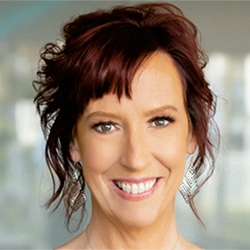 Kim LaMontagne, MBA is a Corporate Mental Health Trainer, International Speaker, Author, and President of Kim LaMontagne, LLC. She is also the Wellbeing Director for HR Florida State Council and Teacher for National Alliance on Mental Illness. Her mission is to train leaders to create a culture in the workplace where everyone feels safe asking for help. Lives depend on it.

kim@kimlamontagne.net
www.kimlamontagne.net
603-320-0155
Facebook
LinkedIn