May 2023
SERVING THE PROFESSIONAL
A Changing Landscape of Workers Deepens Benefits Challenges
By Scott Millson
Today's workforce is vastly changed since the pandemic, forcing HR departments to scramble and, in many cases, upend time-honored policies and procedures to find, and most importantly, keep talent. It can be difficult to reconcile the company line to employees' newly expressed posture on what they will or won't tolerate to offset burnout. Read More
---
Talent Trends: Internal Talent
By Katie Garcia, MBA, SHRM-CP
Developing your internal talent, or upskilling, is a great way to reap the benefit of a home-grown workforce. Dive into those deep pools of workforce planning, talent analytics and employee engagement – you might be surprised what you find. Read More
---
The Power of Connection at Work
By Juan Betancourt
Increasing employee retention doesn't just help your company…it also helps your people. An employee who feels connection at work is an employee who can engage fully. And an employee who can fully engage is an employee who feels compelled to stay. Read More
---
Mental Health Awareness – Stigma in the Workplace
By Kim LaMontagne
1 in 5 people live with a mental health condition and mental illness is more common than cancer, diabetes, and heart disease, COMBINED. We speak openly and ask for accommodations for our physical health, so why are we still afraid to talk about mental health? Read More
HR CONNECTIONS
Moment of Inspiration
"Do the things that interest you and do them with all your heart" – Eleanor Roosevelt.
Provided by Amanda Shettlesworth – Director Elect, HR Indiana SHRM.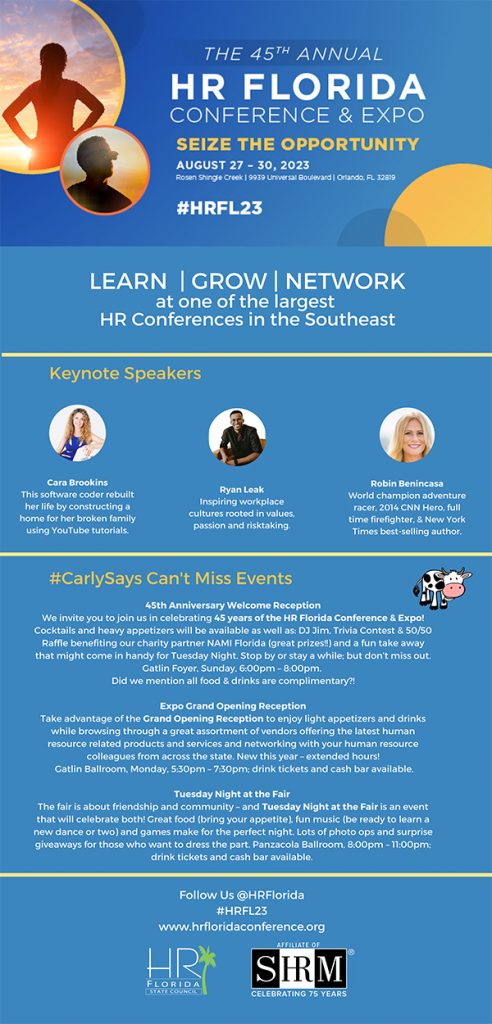 Villyge Supports the "Whole Person"

As if HR's role wasn't tough enough, the "people people" are now struggling to keep employee sentiment high amidst record firings, reductions in salaries, shrinking bonuses, and drops in stock prices. How do the "people people" address these struggles? Read more…
---
SHRM Foundation's Human Resources Registered Apprentice Program
Are you challenged by finding entry level HR talent? Are you looking to diversify your HR team? Do you want to reduce turnover? Do you want to invest in talent and have a positive return on investment? The HR RAP can provide this and more! Read More

ADVANCING THE PROFESSION
HR Florida is a community of 28 professional chapters and a growing number of student chapters organized into 10 districts. Each month we bring you information from around the state so you can stay informed on upcoming meetings and conferences. Chapters work hard to provide timely, exceptional educational programs, often for recertification credits, and welcome you to attend as a member or as a guest! If you are not a member of a local chapter, visit 2023 Chapters & Chapter Presidents – HR Florida State Council to find a Chapter near you.
HR Florida Professional of the Year nomination deadline is June 24, 2023
Sponsored by Fisher Phillips
This annual award recognizes a human resource leader who has advanced the profession in a significant way. "Best in class," the individuals nominated for this award serve as role models for the profession by setting the standard for others to follow and apply their expertise to enhance organizational effectiveness. Nominate Here!
Explore all HR Florida Awards and Recognition opportunities along with guidelines and past winners here: Awards & Recognition – HR Florida State Council
DISTRICT SPOTLIGHT
District 1: Continuing to Thrive!
By Alonzo Smith, MA, SHRM-SCP, SPHR, District Director
District 1 is geographically located in the extreme western panhandle of Florida. The district is home to two professional chapters: SHRM Emerald Coast Chapter located in Fort Walton Beach in Okaloosa County, the birthplace of the Special Olympics boasting some amazing sugar sand beaches; and Greater Pensacola SHRM located in Pensacola in Escambia County, home base for the world-renowned U.S. Navy Blue Angels Flight Demonstration Team. Read More
UPCOMING LOCAL CHAPTER EVENTS
| | | | |
| --- | --- | --- | --- |
| 5/25/23 | MAY 2023 CareerTalk | Hosted by SHRM JACKSONVILLE | Learn More |
| 6/8/23 | June 2023 Chapter Meeting | Hosted by SHRM JACKSONVILLE | Learn More |
| 6/8/23 | Delivering on Market Dominance: How HR Impacts Business | Hosted by South Brevard SHRM | Learn More |
| 6/14/23 | The ROI of HR (or how to use data analytics to make impactful decisions, create meaning and evaluate success for HR programs) | Hosted by SUNCOASTHR | Learn More |
| 6/14/23 | Mark Griffiths – Art of Execution | Hosted by FL KEYS SHRM | Learn More |
| 6/15/202 | JUN 2023 SHRM & HUB International Virtual Event | Hosted by SHRM JACKSONVILLE | Learn More |
| 6/20/23 | General Meeting | Hosted by OCALA HRMA | Learn More |
| 6/20/23 | Let's Have a Good Time Understanding and Using Diversity, Equity, and Inclusion | Hosted by SPACE COAST HRA | Learn More |
| 6/21/23 | Half Day Conference with Tony Moore | Hosted by VOLUSIA FLAGLER SHRM | Learn More |
If you are an affiliated chapter within the state of Florida and wish to post an event, please email Kathy Scott at Kathy.Scott@hrflorida.org
UPCOMING HR FLORIDA EVENTS
Interested in volunteering at this year's conference? Go to #HRFL23 Volunteer Interest Form
UPCOMING SHRM NATIONAL EVENTS
Sign up for the HR Florida State council #SHRM23 Networking Mixer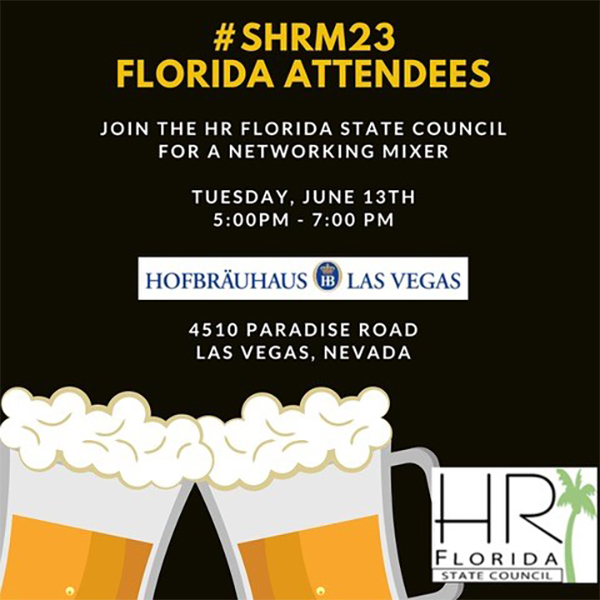 Earn Your SHRM Certification
Certification grant application window closes June 7!
HR Florida recognizes the importance of Human Resources professionals obtaining their SHRM certification. Obtaining a certification can be a valuable step for HR professionals to advance their career and demonstrate their mastery of the field. We support Florida HR professionals by offering SHRM certification professional development grants aligned with SHRM's fall and spring testing windows. Grant recipients receive financial support for the purchase of the SHRM Learning System and exam testing fees.
Professional development is a key step to advancing your career, and financial assistance can certainly help alleviate some of the costs associated with obtaining your certification. If you have been thinking about obtaining your certification NOW is the time to take advantage of this opportunity.
Take the next step in your career and apply for the certification grant today! For more information, please visit HR Certification – HR Florida State Council
ADVERTISE HERE!
Fellow HR Professionals. Did you know sponsored content is 22 more times more engaging than display ads? Contact us today to learn how to get started.
hrflorida@theygsgroup.com
717.430.224
EDITORIAL SUBMISSIONS
We hope you enjoy our selections of original content, local and national updates, and news you can use. Please let us know what you think! Send to communications@hrflorida.org. All comments are welcome and encouraged!
HR Florida Review
Share your expertise as an HR professional with over 16,000 other HR professionals! Encourage colleagues to submit articles. We are currently looking for content on topics ranging from Employee Relations, State & Federal Compliance, Inclusion & Diversity, Leadership, Organizational Development, & any other Best Practice Advice for HR Professionals.
Submission: Now accepting submissions for our next issue!
---
HR Florida Newswire
Purpose: Share upcoming events, announcements, and recent news relevant to HR professionals and Chapter members.
Style: Brief, direct, summarized information (pictures appreciated).

Submission deadline: The 3rd Wednesday of each month, for the following month's newswire.
Format: Send submissions in Word format to Alan Bernstein at editor@hrflorida.org
---
Mouth of the South Blog
Share your interesting stories/tips from the HR Profession!
Submissions: ONGOING