January 2023
SERVING THE PROFESSIONAL
How HR Leaders Can Create Empathetic Workplaces
Cognitive empathy is often baked into an HR leader's job: sitting through conflict resolution sessions, understanding where employees are coming from and charting a path forward. Emotional empathy goes a step further; it involves connecting with others on an emotional level and feeling what they are feeling.
How HR Leaders Can Create Empathetic Workplaces (shrm.org)
---
3 Tools to Replace Conventional Employee Discipline
Tired of verbal counseling, performance improvement plans and final written warnings? Columnist and former employment law attorney Jathan Janove has a new method for talking with employees, documenting their behavior, and helping them decide whether to make changes needed to remain with the company or leave.
3 Tools to Replace Conventional Employee Discipline (shrm.org)
---
Writing as a Thought Leadership Strategy
How can I possibly find time to write articles, you may ask? I'm so busy with my role–who has time for writing articles? Cathy Fyock, CSP, SPHR, is The Business Book Strategist, and works with professionals who want to write as a career growth strategy. Read More
---
SHRM Foundation's Human Resources Registered Apprentice Program
Are you challenged by finding entry level HR talent? Are you looking to diversify your HR team? Do you want to reduce turnover? Do you want to invest in talent and have a positive return on investment? The HR RAP can provide this and more! Read More
HR CONNECTIONS
Moment of Inspiration
This month's favorite quote was provided by Charlotte Huntsman, Pacific State Council Director. "We rise by lifting others" – Robert Ingersoll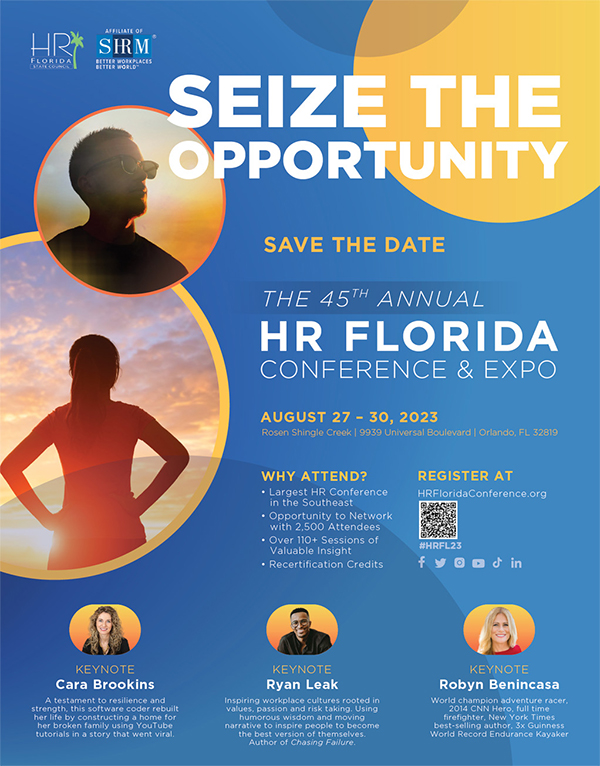 Florida Trend Best Companies to Work For in Florida 2023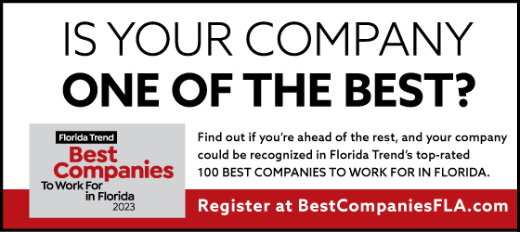 Call for Volunteers – Especially Emerging Professionals
The HR Florida State Council is comprised entirely of Volunteers! The 60+ member Council consists of an Executive Committee, District Directors, Core Leadership Directors, Council Services Directors, and the Chapter President from each of our 28 local chapters, representing more than 16,000 HR Professionals in the state of Florida. Read More
---
Invitation to Support Student HR Research via a Survey (closes 1/17)
Good morning HR Research Collaborators! Part of my role as State Research Director for the HR Florida State Council is to help bridge the gap between practitioners and academics. Read More
ADVANCING THE PROFESSIONAL
HR Florida is a community of 28 professional chapters and a growing number of student chapters organized into 10 districts. Each month we bring you information from around the state so you can stay informed on upcoming meetings and conferences. Chapters work hard to provide timely, exceptional educational programs, often for recertification credits, and welcome you to attend as a member or as a guest! If you are not a member of a local chapter, visit 2023 Chapters & Chapter Presidents – HR Florida State Council to find a Chapter near you.
DISTRICT SPOTLIGHT
District 7 Continues to Impress!
By Dawn Laidlaw, District Director
District 7 is comprised of the Sarasota-Manatee Human Resources Association (SHRA), HR Tampa and Suncoast HR. Read More
UPCOMING LOCAL CHAPTER EVENTS
| | | | |
| --- | --- | --- | --- |
| 1/17/23 | From Peer to Leader: Navigating the Transition | Hosted by SPACE COAST HR ASSOCIATION | Learn More |
| 1/19/23 | 5 Trends in 401(k) Plans | Hosted by HR MARTIN COUNTY | Learn More |
| 1/20/23 | 25th Anniversary Gala | Hosted by VOLUSIA FLAGLER SHRM | Learn More |
| 1/24/23 | Mental Health Forum w/Johnny C. Taylor, Jr. | Hosted by GOSHRM | Learn More |
| 1/26/23 | 60th anniversary kick off | Hosted by SARASOTA-MANATEE HRA | Learn More |
| 2/21/23 | An Introduction to Flourishing Longevity Workshop | Hosted by GOSHRM | Learn More |
| 3/21/23 | Restoring Respect: How to Guide for Supporting the Repair of Broken Work Relationships | Hosted by GOSHRM | Learn More |
| 4/19/23 | 26th Annual Space Coast HR Conference | Hosted by SOUTH BREVARD SHRM and SPACE COAST HRA | Learn More |
UPCOMING HR FLORIDA EVENTS
If you are an affiliated chapter within the state of Florida and wish to post an event, please email Kathy Scott at Kathy.Scott@hrflorida.org
UPCOMING SHRM NATIONAL EVENTS

ADVERTISE HERE!
Fellow HR Professionals. Did you know sponsored content is 22 more times more engaging than display ads? Contact us today to learn how to get started.
hrflorida@theygsgroup.com
717.430.224
EDITORIAL SUBMISSIONS
HR Florida Review
Share your expertise as an HR professional with over 16,000 other HR professionals! Encourage colleagues to submit articles. We are currently looking for content on topics ranging from Employee Relations, State & Federal Compliance, Inclusion & Diversity, Leadership, Organizational Development, & any other Best Practice Advice for HR Professionals.
Submission: Now accepting submissions for our next issue!
---
HR Florida Newswire
Purpose: Share upcoming events, announcements, and recent news relevant to HR professionals and Chapter members.
Style: Brief, direct, summarized information (pictures appreciated).

Submission deadline: The 3rd Wednesday of each month, for the following month's newswire.
Format: Send submissions in Word format to Alan Bernstein at editor@hrflorida.org
---
Mouth of the South Blog
Share your interesting stories/tips from the HR Profession!
Submissions: ONGOING