April 2023
SERVING THE PROFESSIONAL
Catching up with HR Florida's "Best in Class"
By LaKisha Kinsey-Sallis
Fisher Phillips' Tampa-based partner LaKisha Kinsey-Sallis caught with Lori Walsh, CHRO with Trajector and 2022 HR Florida Professional of the Year. Read what it means to be a winner of the HR Professional of the Year, as well as what trends Lori is seeing in HR and today's workplace. Read More
---
How Human Connection in the Workplace Drives Inclusion & Belonging
By Juan Betancourt
In today's fast-paced work environment, it can be easy to get lost in the day-to-day tasks and deadlines. However, as humans, we are social creatures who crave connection and a sense of belonging. This is why fostering human connection in the workplace is essential for promoting inclusion and a positive work environment. In this article, we will explore the importance of human connection at work and how it can improve inclusion and belonging within teams. Read More
---
Mental Health in the Workplace: A Crucial Conversation for the HR Leaders
By Kim LaMontagne
To promote mental health, prevent mental health conditions, and enable people living with mental health conditions to participate and thrive in work, the WHO developed guidelines on mental health at work. The recommendations cover organizational interventions, manager training and worker training, individual interventions, return to work, and gaining employment. Read More
---
Two Steps to Effective Organizational Change Management
By Mostafa Sayyadi
Today's organizations that face challenges such as the emergence of new technologies and hypercompetitive competition in today's global environment do not like change. Yet, they must embrace it. Resisting change could lead to destruction, and by ignoring external threats and the wide array of growing competitors, organizations find themselves missing the train that has left the station. Read More
---
What We're Watching: Employment-Related Legislative Bills
By Justin McConnell
If you thought March madness was exhilarating, just wait for what's in store during April madness. Hold on a second, you haven't heard of April madness? This year's legislative session, which is set to adjourn on May 7, is now in the final stretch and the bills have been flying. The question now is what bills will make it to the end? Will there be any "bracket busters"? What about any "Cinderella" bills? Read More
HR CONNECTIONS
Moment of Inspiration
"The effect you have on others is the most important currency there is." – Jim Carrey
Povided by Ross Gibson, State Council Director for Vermont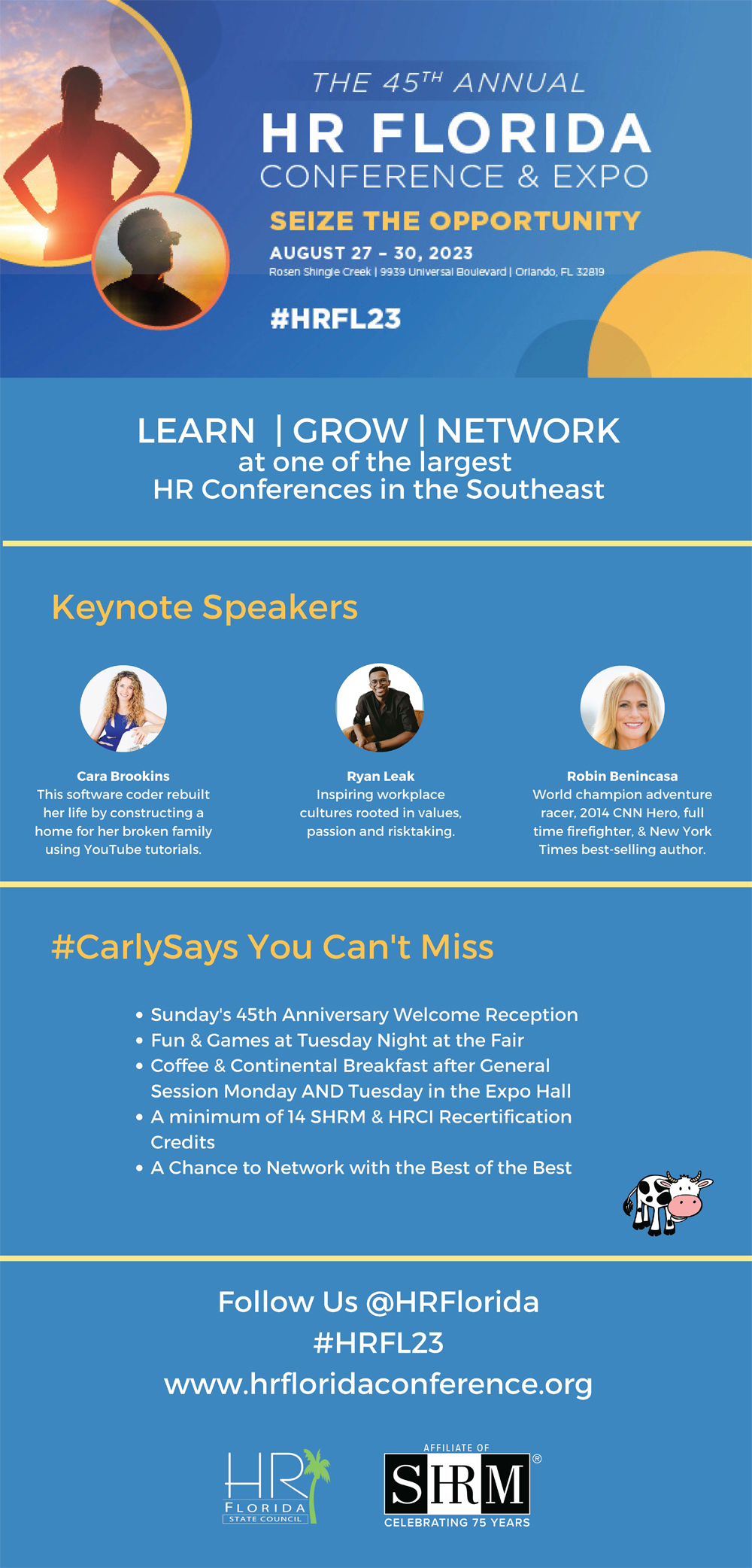 Villyge Supports the "Whole Person"

As if HR's role wasn't tough enough, the "people people" are now struggling to keep employee sentiment high amidst record firings, reductions in salaries, shrinking bonuses, and drops in stock prices. How do the "people people" address these struggles?
---
SHRM Foundation's Human Resources Registered Apprentice Program
Are you challenged by finding entry level HR talent? Are you looking to diversify your HR team? Do you want to reduce turnover? Do you want to invest in talent and have a positive return on investment? The HR RAP can provide this and more! Read More
Leadership Conference on Safety, Health + Sustainability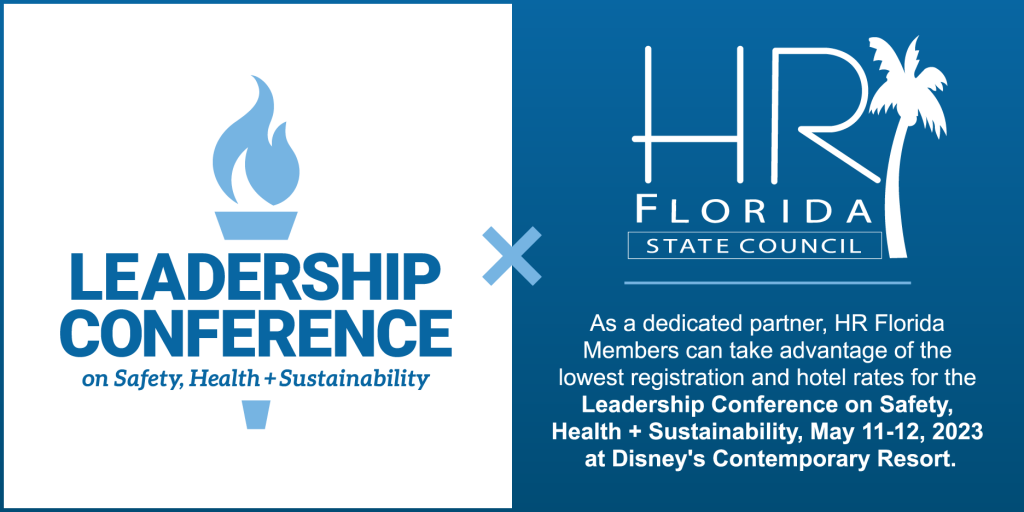 Thank you for being part of the movement to make Florida the safest, healthiest and most sustainable state in America from day one. As a partner and supporter of the Florida Chamber and its Leadership Conference on Safety, Health + Sustainability, we want to recognize HR Florida's commitment with a special offer for registration and hotel rates for this year's event. Read More

ADVANCING THE PROFESSION
HR Florida is a community of 28 professional chapters and a growing number of student chapters organized into 10 districts. Each month we bring you information from around the state so you can stay informed on upcoming meetings and conferences. Chapters work hard to provide timely, exceptional educational programs, often for recertification credits, and welcome you to attend as a member or as a guest! If you are not a member of a local chapter, visit 2023 Chapters & Chapter Presidents – HR Florida State Council to find a Chapter near you.
HR Florida Hosts Legislative Conference and Sponsors Capital Report during Legislative Session
During Florida's legislative session, Capital Report is broadcast each day during session at 6:30 pm on 88.9 WFSU-FM Tallahassee (Fridays only out of session). Capital Report is published online daily (Monday through Friday) by 6:30 pm. You can also find it as a podcast on Apple, Stitcher, Spotify, and Google. HR Florida's sponsorship can be heard on Mondays during the 2023 legislative session, on the Friday statewide broadcasts, and be seen on the Capital Report podcast webpage during the session.
DISTRICT SPOTLIGHT
District 10: A Year of Growth, Achievements, and Exciting Upcoming Events
By Jonathan Ross, MBA, SHRM-SCP, SPHR, District Director
The Southeast Florida District includes HRA of Broward County, HR Miami, and Florida Keys SHRM. Read more about all the great things happening in District 10! Read More
UPCOMING LOCAL CHAPTER EVENTS
4/18/23
401(K)/EBSA Audit
Hosted by OCALA HRMA

Learn More

4/19/23
26th Annual Space Coast HR Conference
Hosted by SOUTH BREVARD SHRM and SPACE COAST HRA

Learn More

4/21/23
FUN! Your New Favorite "F" Word for the office
Hosted by SARASOTA-MANATEE SHRM

Learn More

4/27/23
SHRM Jacksonville 14th Annual Conference featuring Johnny C. Taylor
Hosted by SHRM JACKSONVILLE

Learn More

4/27/23
HRABC Diversity, Equity & Inclusion Conference
Hosted by HR ABC

Learn More

5/6/23
HRABC Chapter Volunteer Event
Hosted by HR ABC

Learn More

5/10/23
The Gamification of HR (increased use of videos and tools to replace instructor lead sessions for new programs, OE, training, and self-learning)
Hosted by SUNCOASTHR

Learn More

5/10/23
David Miklas – Legal Update
Hosted by
FL KEYS SHRM

Learn More

5/10/23
20th Annual HR & Legal Conference
Hosted by GREATER PENSACOLA SHRM

Learn More

5/11/23
Training Needs Analysis A 10 Step Process
Hosted by SOUTH BREVARD SHRM

Learn More

5/16/23
Unconcious Bias
Hosted by
OCALA HRMA

Learn More

5/16/23
I'm a Leader! I'm Not Biased! Identifying and Managing Bias
Hosted by SPACE COAST HR ASSOCIATION

Learn More

5/18/23
HRABC Networking Event
Hosted by HR ABC

Learn More

5/19/23
SHRM & Jackson Lewis Virtual Event
Hosted by SHRM JACKSONVILLE

Learn More

5/19/23
Summit23
Hosted by SHRM SWFL

Learn More

5/25/23
MAY 2023 CareerTalk
Hosted by SHRM JACKSONVILLE

Learn More
If you are an affiliated chapter within the state of Florida and wish to post an event, please email Kathy Scott at Kathy.Scott@hrflorida.org
UPCOMING HR FLORIDA EVENTS
UPCOMING SHRM NATIONAL EVENTS
Earn your SHRM Certification
HR Florida recognizes the importance of Human Resources professionals obtaining their SHRM certification. Obtaining a certification can be a valuable step for HR professionals to advance their career and demonstrate their mastery of the field. We support Florida HR professionals by offering SHRM certification professional development grants aligned with SHRM's fall and spring testing windows. Grant recipients receive financial support for the purchase of the SHRM Learning System and exam testing fees.
Professional development is a key step to advancing your career, and financial assistance can certainly help alleviate some of the costs associated with obtaining your certification. If you have been thinking about obtaining your certification NOW is the time to take advantage of this opportunity. The certification grant application window opens on April 11 and closes on June 7.
Take the next step in your career and apply for the certification grant today! For more information, please visit HR Certification – HR Florida State Council
ADVERTISE HERE!
Fellow HR Professionals. Did you know sponsored content is 22 more times more engaging than display ads? Contact us today to learn how to get started.
hrflorida@theygsgroup.com
717.430.224
EDITORIAL SUBMISSIONS
HR Florida Review
Share your expertise as an HR professional with over 16,000 other HR professionals! Encourage colleagues to submit articles. We are currently looking for content on topics ranging from Employee Relations, State & Federal Compliance, Inclusion & Diversity, Leadership, Organizational Development, & any other Best Practice Advice for HR Professionals.
Submission: Now accepting submissions for our next issue!
---
HR Florida Newswire
Purpose: Share upcoming events, announcements, and recent news relevant to HR professionals and Chapter members.
Style: Brief, direct, summarized information (pictures appreciated).

Submission deadline: The 3rd Wednesday of each month, for the following month's newswire.
Format: Send submissions in Word format to Alan Bernstein at editor@hrflorida.org
---
Mouth of the South Blog
Share your interesting stories/tips from the HR Profession!
Submissions: ONGOING