October 2022

Supporting Employees During a Hurricane
By Katie Navarra
When Hurricane Harvey made landfall in Texas in August 2017, Jill Koob, SHRM-SCP, was on the front lines of the storm. The owner of Energize HR had 4 feet of water in her family's home. Luckily, her family had evacuated, but friends and a client were stuck nearby. Koob's family ended up rescuing them by boat because first responders were overwhelmed.
---
Apply now for a SHRM Specialty Credential
HR professionals interested in building specialized knowledge of HR are invited to apply for #SHRMFoundation's SHRM Specialty Credential Grant! These credentials allow HR professionals to demonstrate targeted competence in several key areas while enhancing credibility among peers and employers. Apply by October 12! For more information, visit https://shrmf.smapply.io/prog/shrm_specialty_credential_grant/
The SHRM Foundation's Human Resources Registered Apprenticeship Program (HR RAP) wants to expand in Florida!
Are you challenged by finding entry level HR talent? Are you looking to diversify your HR team?
Do you want to reduce turnover? Do you want to invest in talent and have a positive return on
investment? The HR RAP can provide this and more. This 18–24-month program allows
apprentices to have a full-time position and get the on-the-job learning and educational resources
to prepare them to take the exam for the SHRM-CP. Apprenticeship results in better candidates
because they are eager to learn Human Resources while fully involved in your company's mission
and values. Read More
HR CONNECTIONS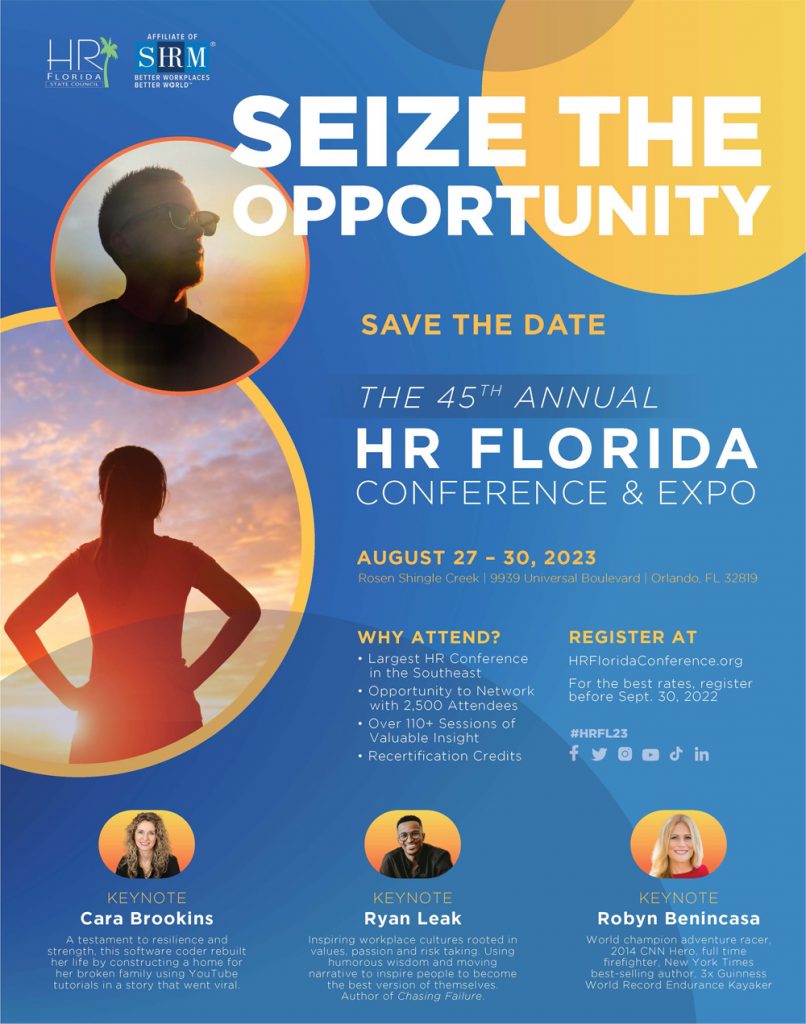 CHAPTER SPOTLIGHT
District 4 Report
Fresh off a remarkably successful Leadership Conference I am happy to report on District #4's activities this year.   Read More.

UPCOMING LOCAL CHAPTER EVENTS
| | | | |
| --- | --- | --- | --- |
| 11/3/22 | November Chapter Meeting | Hosted by SHRM JACKSONVILLE | Learn More |
| 11/4/22 | 25th Anniversary Gala | Hosted by VOLUSIA FLAGLER SHRM | Learn More |
| 11/9/22 | Diversity & Inclusion – Joint Chapter Meeting Initiative | Hosted by SUNCOAST HR | Learn More |
| 11/15/22 | Monthly Professional Development Meeting | Hosted by SPACE COAST HRA | Learn More |
| 11/16/22 | Monthly Chapter Meeting | Hosted by VOLUSIA FLAGLER SHRM | Learn More |
| 11/17/22 | Chapter Meeting | Hosted by HR COLLIER | Learn More |
| 11/17/22 | Career Talk | Hosted by SHRM JACKSONVILLE | Learn More |
| 11/17/22 | HR 101 for the Small Business Owner and Those New to HR | Hosted by TCHRA | Learn More |
| 11/18/22 | Virtual Event in partnership with Jackson Lewis | Hosted by SHRM JACKSONVILLE | Learn More |
| 11/9/22 | Chapter Meeting | Hosted by FL KEYS SHRM | Learn More |
| 12/1/22 | Annual Legal Summit | Hosted by SHRM JACKSONVILLE | Learn More |
| 12/2/22 | Holiday Party | Hosted by TCHRA | Learn More |
| 12/17/22 | Virtual Event in partnership with HUB International | Hosted by SHRM JACKSONVILLE | Learn More |
If you are an affiliated chapter within the state of Florida and wish to post an event, please email Layla Bonis at layla.bonis@hrflorida.org

ADVANCING THE PROFESSIONAL
State and Federal Trends Narrowing Enforceability of Employee Restrictive Covenants, Nondisclosure Agreements
By Lindsay Dennis Swiger, Cate E. Barton, and Jackson Lewis P.C.
Restrictive covenants and nondisclosure agreements are essential tools employers use to protect and maintain confidential business information, customer goodwill, and other reputational and business interests that are often companies' most significant assets. The legal landscape surrounding both restrictive covenants and nondisclosure agreements has undergone significant changes over the past few years, and it is imperative that employers stay up to date with these changes to comply with state and federal law in order to enforce these agreements and protect their organization's legitimate business interests. Read More
ADVERTISE HERE!
Fellow HR Professionals. Did you know sponsored content is 22 more times more engaging than display ads? Contact us today to learn how to get started.
hrflorida@theygsgroup.com
717.430.224
EDITORIAL SUBMISSIONS
HR Florida Review
Share your expertise as an HR professional with over 16,000 other HR professionals! Encourage colleagues to submit articles. We are currently looking for content on topics ranging from Employee Relations, State & Federal Compliance, Inclusion & Diversity, Leadership, Organizational Development, & any other Best Practice Advice for HR Professionals.
Submission: Now accepting for Spring 2022! Send in your great article!
---
HR Florida Newswire
Purpose: Share upcoming events, announcements, and recent news relevant to HR professionals and Chapter members.
Style: Brief, direct, summarized information (pictures appreciated).

Submission deadline: The 3rd Wednesday of each month, for the following month's newswire.
Format: Send submissions in Word format to Eddie Safille at editor@hrflorida.org
---
Mouth of the South Blog
Share your interesting stories/tips from the HR Profession!
Submissions: ONGOING