We asked, you answered, and here are the results!
By Shellie Halstead, Ed.D, SHRM-SCP, PMP, Analytics and Innovation Director
In 2022, we surveyed conference attendees along with our entire email list to find out what research topics and services are most valuable to you.
The top three research topics were:
How candidates are identified and selected
How employees are measured and given feedback
How the next generation of leaders is selected and developed
You were looking for more support in Employee Engagement, Employee Performance, Employee Feedback, Culture, and Succession Planning.
We also found that if we gave you a magic wand to fix just one thing, the most common themes were around finding candidates, retaining employees, and employee engagement.
So what did we do with those results? We expanded our annual conference sessions that focus on closing the research-practitioner gap to make sure we addressed the results of our survey. At the 2023 HR Florida Conference we will have 4 sessions with the specific goal of presenting academic research in a way that is both meaningful to and useable by the practitioner:
Improving the Feedback Environment: Creating a Performance Review Model for Today's Workplace
Selecting and Developing the Next Generation of Leaders: Harnessing AI for Success in a Multigenerational Workplace
Unlocking Virtual Team Member Performance: The Influence of Quality of Work Life and Mission
Embracing the Future of Work: Tools to Create, Assess, and Improve Augmented, Virtual, or AI teams
At the conference we will be conducting our 2023 survey. Come visit our research committee at one of our sessions or at the HR Florida booth for the QR code or just to talk nerdy with us.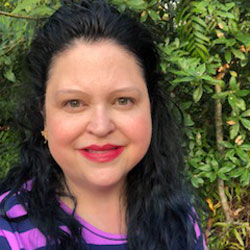 Dr. Shellie Halstead serves as the HR Florida State Council Director of Analytics and Innovation. She has worked in human resources in the United States and Japan since 2004 and is currently the Chief Human Resources Officer for the Lee County Tax Collector. She has her doctorate in Organizational Leadership, her SHRM-SCP, a Black Belt in Lean Six Sigma, and is a certified Project Management Professional. Her interest in the field of innovation has led her to serve as a United States Delegate to ISO's Technical Committee for Innovation Management Standards (ISO/TC 279) in the role of US Chair of the Technology, Terminology, and Definitions working group. She is also the liaison for ISO/TC 279 to ISO/TC 260 – Human Resource Management.