Utilizing Social Media to Share Your Employer Brand Story
By Shaker
A well-defined social media strategy can be the driving force behind a company's employer branding efforts, offering a window into its culture, values, and overall work environment. As candidates increasingly turn to social media to gauge an organization's reputation and authenticity, crafting a compelling and cohesive online presence has evolved from a mere option to a strategic necessity. Together, let's explore the benefits of utilizing social media to share your employer brand story and attract the best candidates to your organization.
Why Employer Branding Matters
Employer branding refers to how an organization is perceived by both current employees and candidates. A strong employer brand can significantly impact recruitment efforts, employee engagement, and overall company reputation.
A recent study showed 75% of all job seekers consider an employer's brand before even applying for a job. Candidates are no longer solely concerned about salary and benefits; they also seek a company culture that aligns with their values and a sense of purpose in their work.
Social media offers a platform to communicate these essential aspects of your employee experience to a broad and engaged audience.
Choosing the Right Social Media Channels
Different social media platforms cater to different audiences and content types. Understanding your target audience and the type of content you want to share will help you choose the right channels.
LinkedIn is a natural fit for professional networking and recruitment-focused content, while platforms like Instagram and TikTok are ideal for showcasing your company culture and employee experiences through visual storytelling.
Showcasing Employee Stories
Employees are the heart and soul of any organization.
"Telling the story of what it's like to work for an organization through the lens of the employees that work there has proven time and time again to be one of the most successful content categories we are able to tap into for our clients," says Shavon Banket, Senior Director of Strategic Content. "It's not only content that is authentic and appealing to potential candidates but tapping into your current employees to get their feedback on the company and their personal experiences creates an opportunity to engage with your current talent, and according to Gallup, highly engaged employees result in a 23% increase in company profitability."
Engaging Content Creation
To keep your audience engaged, it's crucial to diversify your content and make it visually appealing. Consider creating videos that offer a behind-the-scenes look at your workplace, interviews with employees, and testimonials from team members. Infographics can also be effective in conveying key aspects of your employer brand in a concise and visually appealing manner.
Encouraging Employee Advocacy
Employees can be your most powerful advocates when it comes to employer branding. By encouraging and empowering your team members to share company updates and experiences on their personal social media profiles, you can amplify your brand message and reach a wider network of potential candidates through word-of-mouth marketing.
Another potent sourcing tool is referrals. A study by Jobvite revealed that 45% of all referred employees stay with the company for at least two years, compared to only 20% of hires from job boards. Leveraging employee referrals can significantly enhance your recruitment process, leading to higher-quality hires and improved employee retention rates.
Monitoring and Responding
Social media is a two-way dialogue. Engaging with your audience by responding to comments, messages, and reviews promptly demonstrates that your company values open communication and continuous improvement.
In an increasingly competitive job market, a strong employer brand is a powerful tool for attracting and retaining top talent. Social media provides an excellent platform to share your employer brand story, showcase company culture, and engage with potential candidates authentically.
By understanding your employer brand strategy, choosing the right social media channels, and creating engaging content, you can build a compelling employer brand that resonates with your audience, builds awareness, and sparks consideration.
If you're interested in learning more about how to leverage your employer brand to attract top talent, visit us in the Expo Hall on Aug 28th & 29th, 2023 at booth #503. See you there!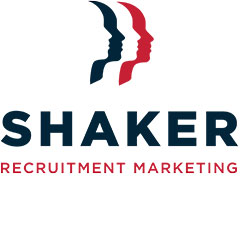 Shaker is a full-service recruitment marketing agency specializing in highly customized solutions for attracting and retaining the right talent, including authentic employer branding, meaningful DEI, exceptional creative, and innovative digital experiences. With over 70 years in the industry, Shaker offers unbiased recommendations informed by a familiar business model of trust, passion, and an unwavering commitment to clients' success. Visit Shaker.com to learn more.