Talent Trends: The Rise of Alternate Work Models in 2023
By Katie Garcia
The year 2023 has witnessed a monumental shift in the landscape of talent management. There is a paradox most HR practitioners and hiring managers are seeing – both a war on talent acquisition as well as amazing candidates who can't find a role.
With the advent of technological advancements and changing employee preferences, hybrid and remote work have emerged as one of the largest talent trends in recent times. This approach to work offers flexibility, improved work-life balance, and enhanced productivity. Let's explore the reasons behind the surge of hybrid work models, its benefits, challenges, and how organizations can successfully navigate this transformative era of work.
In the wake of the COVID-19 pandemic, remote work became a necessity, not an option if you ask MOST job seekers. Its implementation revealed numerous benefits, such as increased employee satisfaction and the potential for cost savings. As the world gradually returns to normalcy, organizations are embracing the concept of hybrid work, allowing employees to divide their time between remote and onsite work. This shift acknowledges the importance of employee well-being while maintaining essential in-person collaboration.
Hybrid work models bring a host of benefits for both employers and employees. For employees, it allows greater flexibility in managing personal and professional commitments, leading to improved work-life balance. Moreover, it reduces commuting time and expenses, thereby enhancing overall job satisfaction. From an employer's perspective, hybrid work arrangements can attract top talent from diverse geographical locations, increase retention rates, and foster a more inclusive work environment.
As organizations embrace hybrid work models, they must also address inherent challenges. One major concern is maintaining team cohesion and company culture when employees are spread across various locations. To overcome this, companies are reimagining team-building initiatives, organizing regular virtual and in-person meetings, and fostering a sense of community through social events.
As the traditional 9-to-5 work model evolves, so must performance measurement practices. Managers are moving away from solely evaluating employees based on hours worked and shifting focus towards outcomes and results. Goal setting, key performance indicators (KPIs), and regular feedback have become critical components of assessing employee contributions effectively.
Human Resource departments play a pivotal role in enabling the successful implementation of hybrid work models. They are tasked with crafting policies that balance employee preferences with organizational goals. HR professionals are also leading initiatives to upskill employees in virtual collaboration, managing remote teams, and navigating hybrid work challenges.
The advent of hybrid work models has expanded the talent pool for organizations. Recruitment processes are now designed to attract candidates from diverse locations, offering them flexible work arrangements that cater to individual needs. This trend is particularly attractive to millennials and Gen Z, who prioritize work-life integration and personal development.
Despite the benefits of hybrid work, it also presents challenges related to employee well-being and mental health. HR departments are implementing comprehensive wellness programs that address the unique needs of remote and hybrid employees. Initiatives like virtual wellness sessions, employee assistance programs (EAPs), and mental health resources ensure that employees feel supported and valued.
As we delve further into 2023, the trend of hybrid work continues to reshape the landscape of talent management. Embracing this transformative approach allows organizations to attract talent, enhance productivity, and adapt to the changing preferences of employees. By leveraging technology, fostering a strong company culture, and prioritizing employee well-being, organizations can thrive in this new era of work, shaping a future that combines flexibility with efficiency. The journey towards a more adaptable and agile workforce has only just begun.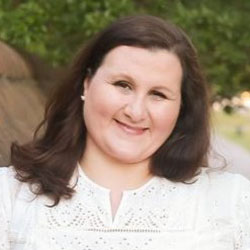 Katie Garcia is the founder of a Senior Human Resource Consulting firm KDG Support, specializing in cultivating HR strategies and developing a talent pipeline through a multi-media approach and personal connection. Her passion is helping small businesses thrive.
Katie is co-Lead for the Space Coast Military Spouse Professional Network (MSPN), Director of Speakers and Certifications for The Space Coast Human Resource Association (SCHRA), and works collaboratively with the Space Coast Military Spouse Economic Empowerment Zone (MSEEZ). She holds an MBA from Regent University, BBA from Centenary University, and is SHRM-CP.