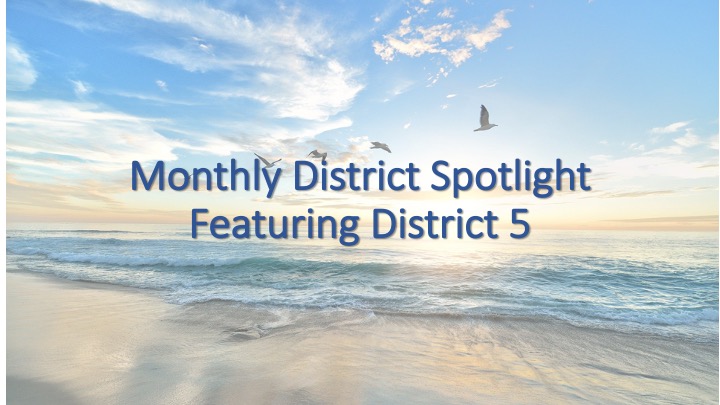 Monthly District Spotlight, Featuring District 5
by Leigh Mills, CEBS, SPHR, SHRM-SCP, District 5 Director
As we close out 2021 I would like to pause and reflect on some of our District V Chapter highlights. We are grateful for our working boards and engaged members.
First, a big shout out to Kate Shockey, President of Volusia/Flagler SHRM who created and taught the newly required HR Ethics around the state both in person and remotely. Kate did what Kate does engaging her board and coming up with many creative ways to raise money for the Special Olympics and the SHRM foundation. Volusia/Flager SHRM sold T'Shirts with a great slogan "Human Kind – Be Both" , "Come Paint with Us" networking event, silent auction raffle for an HR Florida Conference registration and many posts on Linked-In and Facebook making the ask – "Help us raise money for the Special Olympics" and the chapter raised over $3,000!
Heading south to Space Coast Human Resources Association, the board's 2021 creativity included a spotlight on a local non-profit at the monthly professional development meetings giving the organization an opportunity to speak with the HR community about their services. The "Non-Profit Spotlight" is a great way to expand our reach and give back to the community. One of the most memorable experiences according to President Alan Bernstein was partnering with a local senior assisted living center where they wrote and delivered over 100 Valentine's Day cards to the residents.
Although remote most of 2021 GOSHRM was not out of sight. Their DEI subcommittee won the Chapter Excellence Award, their UCF Student Chapter won the Student Competition at the HR FL Leadership Conference but in Cheryl's words "the most fun thing in 2021 was our Secretary and 2022 President Elect were recognized for going undercover… as Undercover HR." The article was featured in a SHRM National publication: https://www.goshrm.org/page/NewsRoom
As we close 2021 it's time to celebrate with networking and member appreciation parties. Space Coast HRA is having a Holiday Social on December 1st; Volusia/Flagler SHRM is having their Membership Appreciation and Board Installation on December 8th; and GOSHRM's End of the Year Disco Party and Board Installation on December 15th.
District V has two returning Presidents in 2022; Alan Bernstein, SHRM-SCP with Space Coast HRA and Cheryl Brown-Merriwether, SHRM-SCP, SPHR with GOSHRM and we welcome in-coming President Tawnya Titus, PHR, SHRM-CP, CSP with Volusia/Flagler SHRM.