Monthly District Spotlight: District 10
By Jonathan Ross, District 10 Director
The chapters that comprise District 10 have had a lot of great things going lately (and upcoming!). Below are just some of these wonderful activities:
HRABC
The HR Association of Broward County has a busy summer and Fall schedule!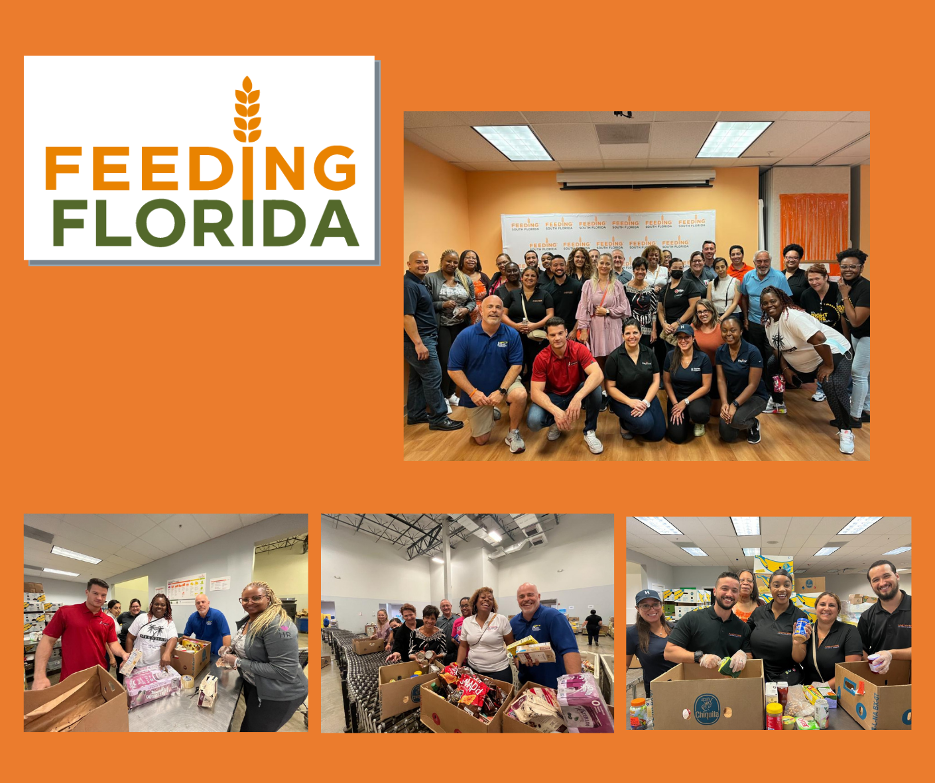 In April, HRABC members pitched in to volunteer at Feeding South Florida (pictured above). This was a really rewarding experience and opportunity to help address some major food scarcity situations as a result of the pandemic. Dozens of HRABC members were there to lend a hand.
Then, HRABC hosted a great half-day legal conference on May 25th for its members. This year's conference theme was "A Whole New World: Legal Updates for the 2022 Employer." Since the landscape of employment law and human resources has changed dramatically over the past two years, this conference focused on situations that HR professionals have begun to find themselves in more frequently—and/or maybe for the first time! The conference featured speakers from small and larger firms alike. Valerie Hooker from Jackson Lewis presented on accommodations for employees based on their disabilities or sincerely held religious beliefs. Holly Griffin Goodman from Gunster educated attendees on conducting effective internal investigations. D. Porpoise Evans from Weiss Serota Helfman Cole & Bierman presented on Florida's brand new "Stop WOKE Act" and its potential impact on Florida's employers with respect to diversity and inclusion trainings and other related activities. Finally, Dana Gallup from Gallup Auerbach presented on mediation and what HR professionals can expect if they are asked to prepare for mediation or attend on behalf of their company. With this being HRABC's first in-person legal conference in two years, there was an impressive turnout. The event provided a great opportunity for professionals to network and engage further with our speakers.
On the heels of that event, HRABC is hosting a Diversity, Equity & Inclusion dinner event on June 22nd at Nova Southeastern, a breakfast event on August 10th (also at Nova), a number of community events in September and November, and its annual conference on October 28th (this year it will be at the Signature Grand, in Davie).
HR Miami SHRM:
HR Miami SHRM had an amazing 3rd Annual Conference (Premier IN-Person conference):
120+ Attendees
10 Amazing presenters
6+ Education Credits for SHRM and HRCI
8 sponsors
OUT of this World Food
And a LOT of Fun
The chapter continues to have a great time while educating and serving the local HR community.
Additionally, HR Miami SHRM is continuing their Virtual 5 Part Series Supervisor Tool Kit. Helping HR professionals and the Supervisors that they work with in their companies prepare for the needs of supervisors in our modern workforce.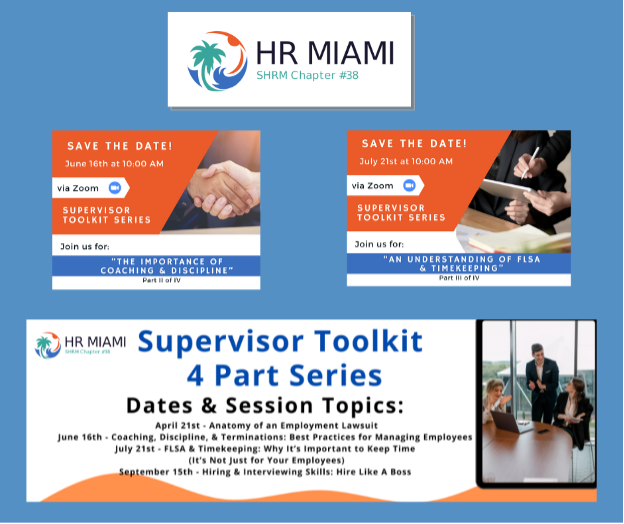 FLORIDA SHRM KEYS
HR Florida Conference & Expo 2022 Scholarship: This year's recipient of Florida Keys SHRM's scholarship to the HR Florida Conference & Expo is Daniella Delucia, Certification Specialist with the Monroe County School District (MCSD).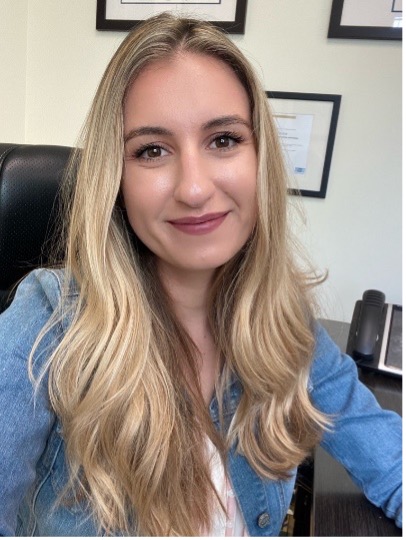 Daniella holds a Master of Science in Management from the University of Florida and a Bachelor of Science in Anthropology from the University of Florida. She graduated Phi Beta Kappa (an academic award, not to be confused with a sorority!).  
Daniella is born and raised in Tavernier and graduated from Coral Shores High School. Her passions are driving around in her boat, spearfishing, scuba diving, etc.
Every year Florida Keys SHRM offers a scholarship the annual Florida HR Conference to a FLKSHRM member, advancing the HR profession. Daniella Deluccia is a two-time FLKSHRM Scholarship winner.
Judy Hobbs Memorial Scholarship: FKSHRM Scholarship Chair Julio J. Torrado (right) recently presented the 2022 Judy Hobbs Memorial Scholarship, on behalf of the Florida Keys Society for Human Resource Management (FKSHRM), to Key West High School graduating seniors Rosa Nafrere (center) and Chole Knowles (left). Ms. Nafrere received a $250 scholarship and will be attending the University of South Florida where she plans to major in Business Management. Ms. Knowles received a $750 scholarship and will be attending the University of Central Florida where she plans to major in Business Management/Accounting.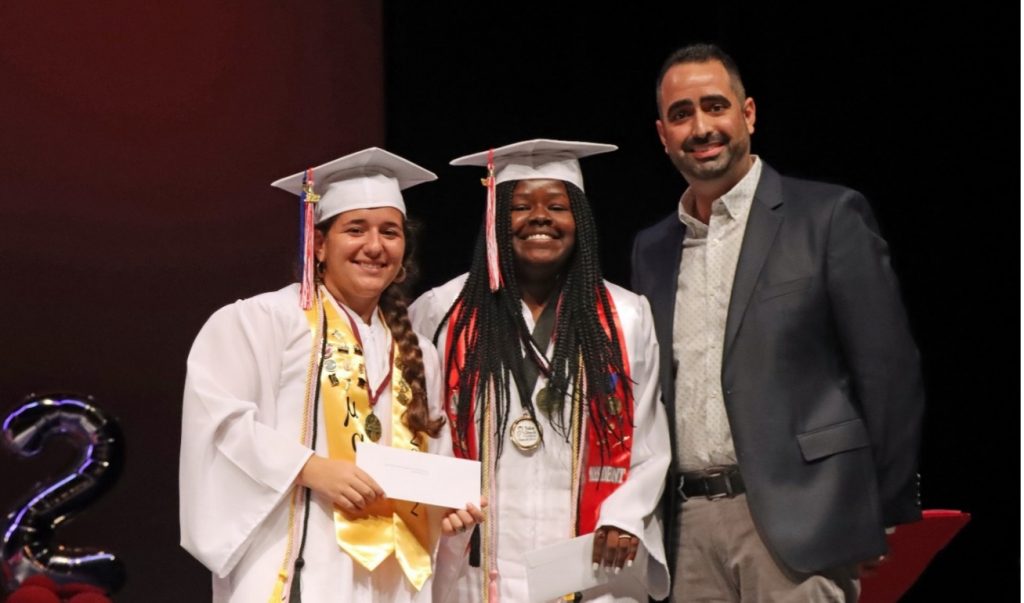 The scholarship was created in memory of Ms. Hobbs, a local entrepreneur and founding member of the organization. During her lifetime she was dedicated to the career success of young people who wanted to excel in business. Upon her passing her mother donated funds to create a scholarship fund in her memory. The scholarship is awarded to local students pursing college degrees in the business field.
Upcoming Florida Keys SHRM event (VIRTUAL):
The Emotional Intelligence Training Company August 10, 2022, 11:30am (David Corey)
For more info go to: https://flkeysshrm.shrm.org/