HR Florida's Annual Leadership Conference: Chapter Excellence Awards
HR Florida State Council welcomed more than 200 volunteer leaders from across the state to the 2023 Leadership Conference at the Hilton Bonnet Creek Resort on October 13 & 14.
Our theme this year, Influential Leadership – Planning for Impact, focused on the strategic planning process. The sessions provided the chapter leadership teams with information, tips and tools for helping develop a plan that will take your chapter's impact to a new level.
To support our volunteer leaders and provide motivation for the task at hand, we were excited to welcome our two keynote speakers, Audra Romao, Chief People Officer of the Orlando Magic, and LeFern Kitt Batie, CEO of The Batie Group. They provided essential and practical information based on their experiences to successfully navigate change and empower impact within your chapter, as well as your organizations.
In addition to strategic planning, we recognized 5 chapters for their commitment to supporting HR Florida's vision to lead the way and make Florida the best place to work. Please join me in congratulating the following award recipients:
Chapter Excellence – Treasure Coast HRA: Certification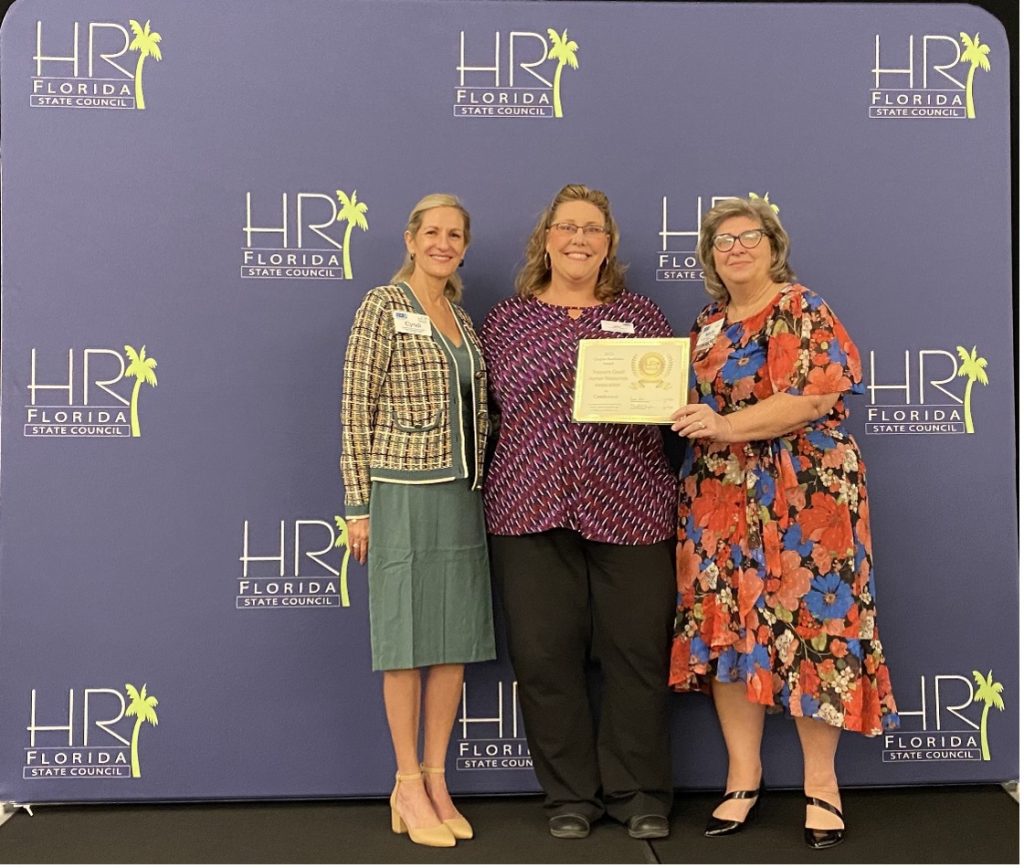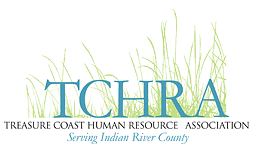 This recognition is a testament to the unwavering commitment, dedication, and innovation of this chapter in empowering HR professionals within their community.
This chapter's dedication to excellence is reflected in the tangible results they have achieved over the years. This chapter has hosted certification study groups for multiple years, harnessing the power of networking as an additional tool for their participants. This commitment to connectivity extends to their study groups themselves, which the chapter has made free for their chapter members to attend. For those outside of their chapter or not affiliated with SHRM, the chapter has kept the costs minimal, ensuring that everyone who seeks knowledge can access it.
In 2023 alone, this chapter has seen an impressive total of 21 participants joining their study group. To put this into perspective, this number is significant considering the size of their chapter. In the spring, they welcomed 14 participants, and in the current fall session, they have an active group of 7 dedicated individuals. But this chapter didn't stop there. In their continuous pursuit of excellence, they have introduced guest speakers to elevate their program further and bring in fresh teaching techniques.
Receiving the Chapter Excellence Award in the area of Certification is a testament to this chapter's dedication to the HR profession and their unwavering commitment to empowering individuals in their community and beyond. This chapter is looking forward to continuing to support and nurture the growth of HR professionals for years to come.
Chapter Excellence – Volusia Flagler SHRM: Membership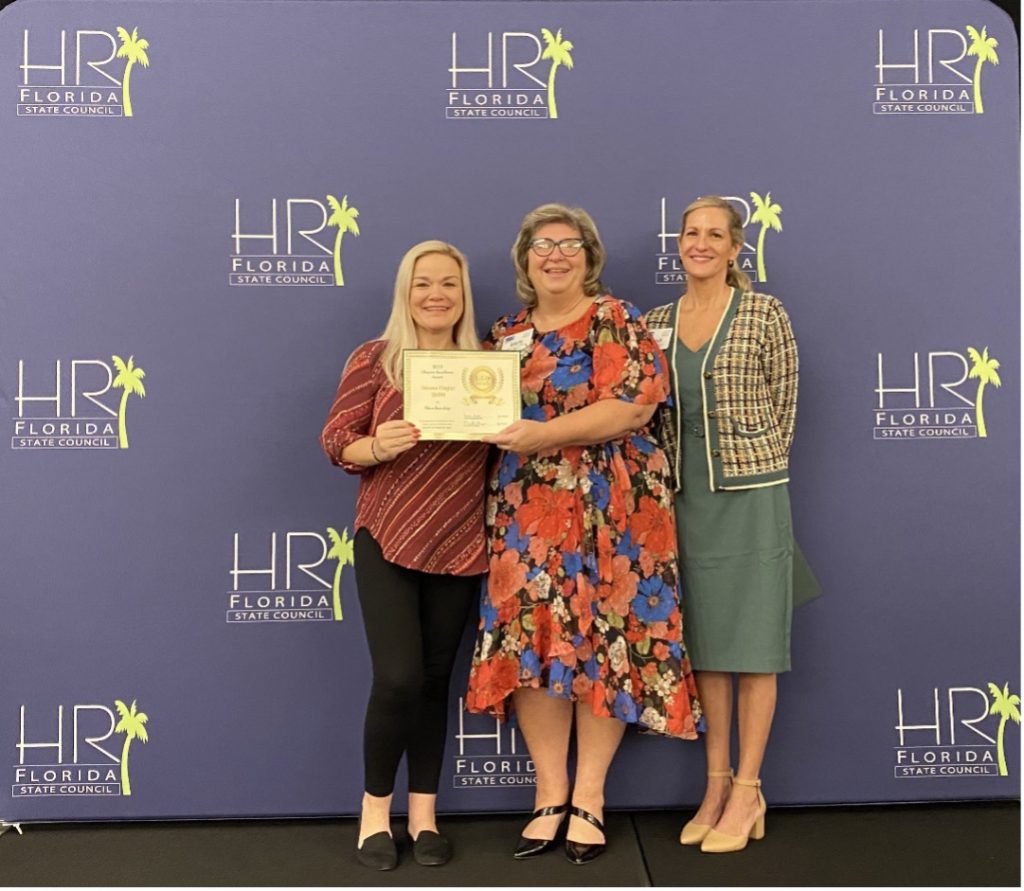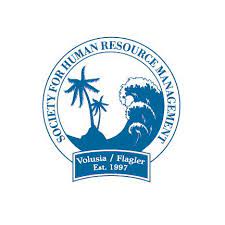 Please join me in applauding this chapter's exceptional dedication to its members and to the field of human resources.
The Volusia Flagler chapter made a courageous decision to implement an all-inclusive chapter fee structure. This new approach covered all their meetings, half-day events, social gatherings, and more. Membership renewal and local dues collection have become seamlessly integrated with the national SHRM membership process, making it easier for their members to manage their commitments. This innovative approach has not only simplified the administrative processes but also ensured a steady stream of revenue through quarterly direct deposits.
This chapter's visionary president presented this transformative idea, which was then unanimously endorsed by their dedicated board. The results speak volumes: Their revenue has surged by an impressive $7,700 in 2023 alone. This financial boost has empowered the chapter to invest in exceptional speakers, enriching social events, and increased contributions to charitable causes.
The impact of this initiative transcends mere numbers. The chapter's membership engagement has soared to unprecedented heights, and their meeting attendance has surged by an average of 50%. The Chapter's January meeting, featuring the remarkable Johnny C. Taylor, witnessed a record-breaking attendance of 76 individuals – a testament to the success of their efforts.
Please join me in applauding this chapter's exceptional dedication to its members and to the field of human resources. Together, they have demonstrated that, indeed, excellence knows no bounds. Congratulations to Volusia Flagler SHRM!
Chapter Excellence – Suncoast HRM: SHRM Foundation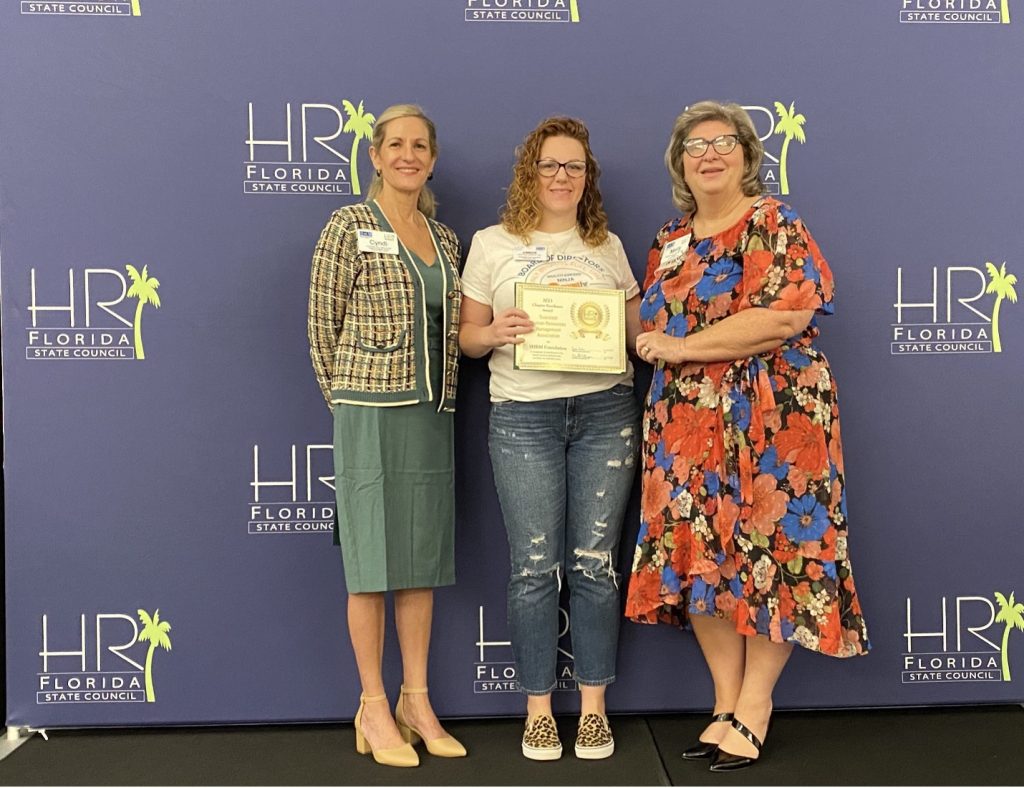 This award celebrates a remarkable achievement—one that exemplifies the spirit of dedication, collaboration, and unwavering commitment to our shared mission.
This chapter's commitment to the SHRM Foundation mirrors their broader mission—to provide a forum of professional development opportunities and support for human resource professionals. They recognize the SHRM Foundation as a vital conduit for resources and tools that empower HR professionals to excel in the modern workforce.
At their annual conference, attended by over 200 people, their chapter board members crafted these captivating baskets, resulting in an impressive $1,600 in raffle ticket sales, with 100% of the proceeds donated to the SHRM Foundation. Additionally, their partnership with Socially Funded, LLC, led to a highly successful silent auction, raising $1,355 earmarked for the SHRM Foundation. In total, this chapter's fundraising efforts amounted to a remarkable $2,955 raised for the SHRM Foundation, thanks to the generous contributions of their chapter members, conference attendees, board members, and the invaluable partnership with Socially Funded, LLC.
Please join me in applauding SuncoastHR for their remarkable achievement and their unwavering commitment to the HR community. Thank you.
Chapter Excellence – Greater Pensacola SHRM: Chapter Leadership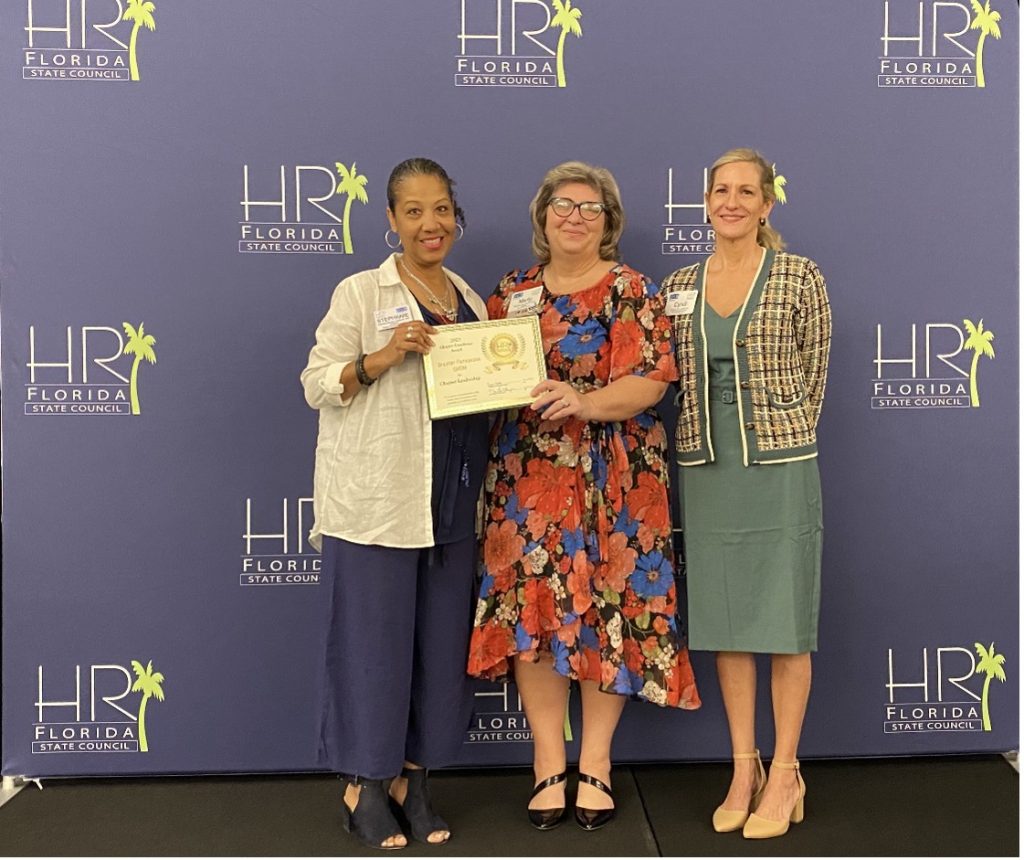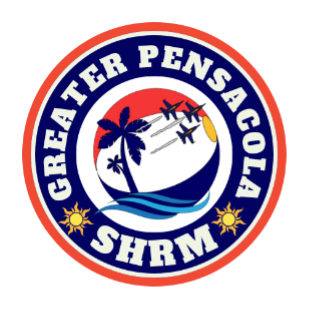 We recognize and celebrate an exceptional initiative undertaken by this chapter, an initiative that has not only demonstrated a commitment to the well-being of their members but has also had a profound impact on their community. It is with great honor and privilege that I present the Chapter Leadership Award to this chapter for their outstanding dedication to health and wellness, with a specific focus on mental health, resiliency, and self-care.
This chapter's commitment goes beyond awareness. They have pledged to promote, advocate, provide support, and help improve the lives of people affected by mental health conditions. This chapter has not only talked the talk but walked the walk by investing in education, support, advocacy, and awareness for suicide prevention and postvention.
One of the standout achievements of this chapter is the partnership with esteemed individuals and organizations like Kim Lamontagne, HR Florida Wellbeing Director, Linda Finklestein, President, of the local NAMI , Latricia Brown, Vice-President, of the local NAMI , Wanda, Outreach Coordinator, of the local NAMI , and Denise Manassa, Director of Community Prevention, CDAC Behavioral Healthcare. Together, they have provided invaluable tools, training, resources, donations, and assistance for their members, their families, and the community.
We Thank you for your dedication, hard work, and commitment to making a positive difference in the lives of our members and our community. Your efforts serve as an inspiration to us all, reminding us of the importance of fostering a culture of well-being and support. Congratulations, Greater Pensacola SHRM, on this well-deserved recognition!
Chapter Excellence – Volusia Flagler SHRM: Community Impact Award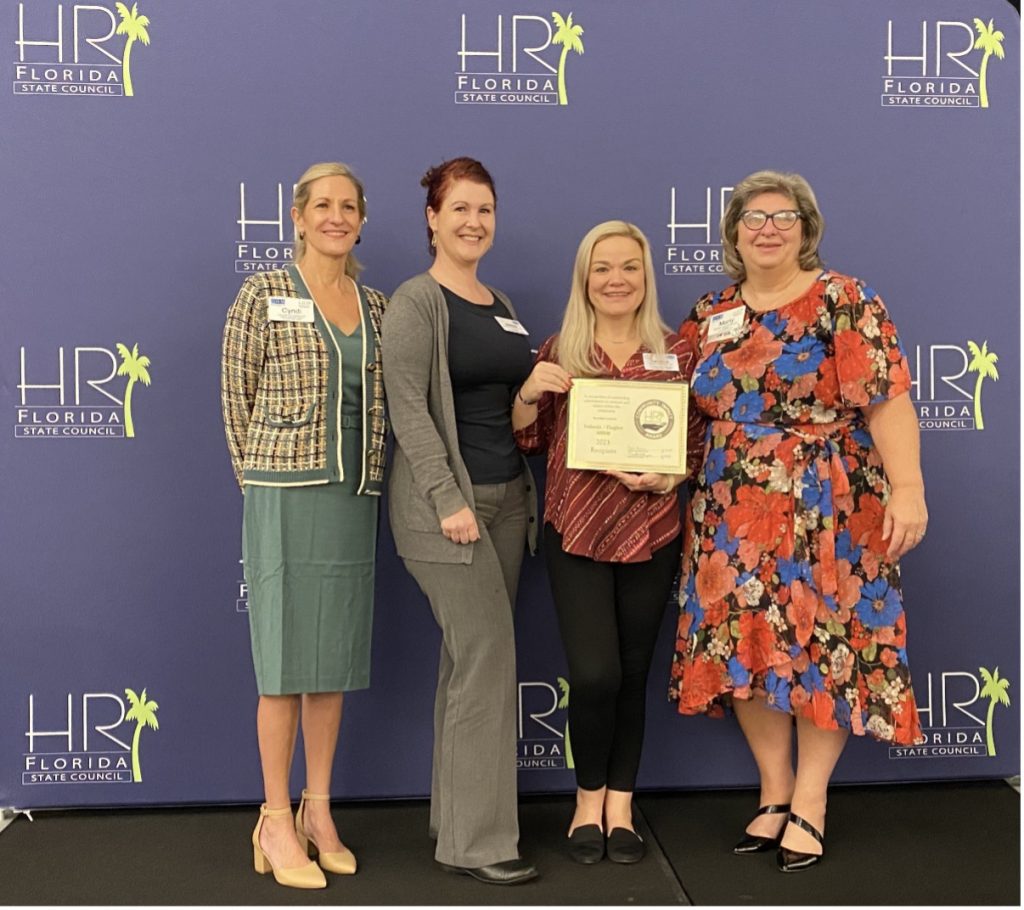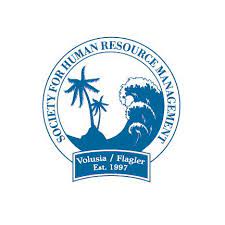 One of the most heartwarming aspects of this chapter's community involvement has been the support they have shown for the Childhood Cancer Foundation. Through their unwavering commitment, this chapter has provided a glimmer of hope to eight children dealing with this devastating diagnosis. This chapter sponsored two of these children with a generous donation of $400, and thanks to the extraordinary generosity of their board members and chapter members, an additional six children received vital support, resulting in a profound financial impact of $8,400.11.
In their pursuit of making a difference, this chapter extended their reach to support the NAMI (National Alliance on Mental Illness) Walks initiative. Mental health awareness is a cause close to their hearts, and their dedication shone through as they raised an astounding $4,313, claiming the top spot among the Florida chapters.
As servant leaders within their community, they have not only dedicated their resources but also their time. This chapter's members have volunteered an incredible 219 hours, with even more estimated in the final quarter of this year. This selfless commitment to service has left an indelible mark on their community, and we are incredibly proud of each and every one of you.
Thank you to all of your members, partners, and volunteers for your dedication and hard work. Together, you are making Florida the best place to work, one act of kindness at a time. We are proud to award the Community Impact Award to Volusia Flagler SHRM.