Advocacy in Action: HR Florida Council Visits Tallahassee
The 11th Annual HR Florida State Council Legislative Conference took place February 9th and 10th. Nearly 90 HR professionals from around the state gathered in Tallahassee to lend their voices to advocate on pending state legislature impacting the workforce. The conference hosted several guest speakers, including a Florida Representative, a member of the Florida Chamber Foundation, and a retired lobbyist.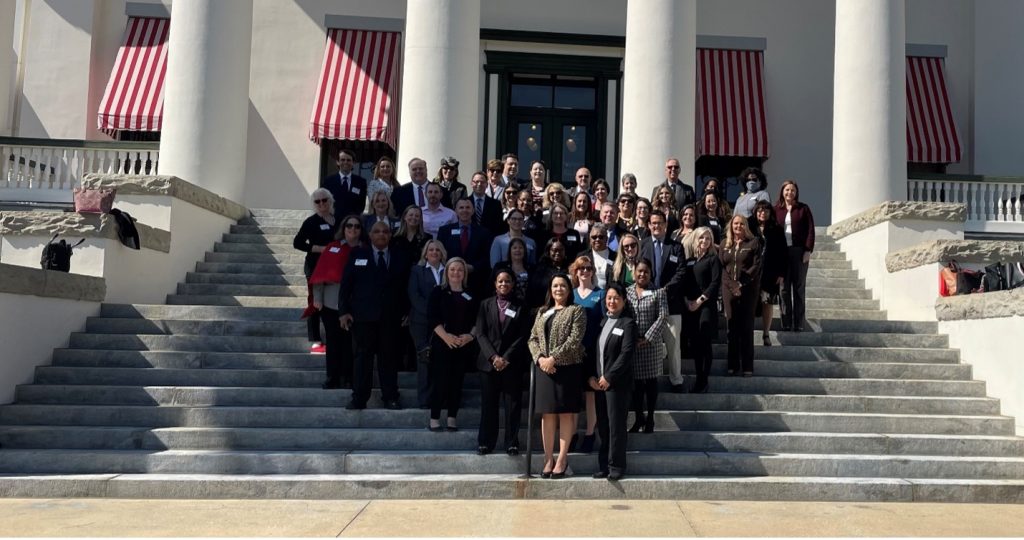 The conference was kicked off by a very special guest speaker, Representative Carlos Smith from District 49. Representative Smith talked to the group about what advocacy means from the perspective of a legislator. He shared the benefits of having HR professionals share their knowledge and expertise on workplace policy. In addition, he gave a brief overview of bill development and shared some tips and tricks for ensuring a successful meeting with law makers.
Next up, a video from Emily Dickens, J.D., SHRM Chief of Staff, Head of Government Affairs was shared. Emily provided an overview of the policy pillars and revealed the newest one – Workplace Governance. She also highlighted the 2022 focus areas, and then thanked HR Florida for continuing to use its voice on behalf of the employees that are represented by SHRM members. Emily shared SHRM's theme for 2022: "Cause the Effect."
After the video, Kimmie Boulahanis, SHRM-CP, PHR, Director of Federal Legislation for the HR Florida State Council, shared the highlights of SHRMS's top five issues for 2022. Executive Branch Administrative Actions Will Impact the Employee-Employer Relationship, Employers Will Continue to Face Challenges Accessing Despite Increased Federal Spending, State Policies Will Complicate the Changing Nature of Work, Employers Will Continue Navigating COVID-19 With Competing Government Mandates, and Mental Health & Wellness Will Affect Labor Force Participation and Invite Regulatory Oversight. Before ending, Kimmie shared the three states with the highest number of SHRM A-Team members, California, Texas and Florida.
HR Florida was honored to welcome the next speaker of the day, David Gillespie, EVP, Florida Chamber Foundation. David provided a brief summation of Florida economic, population and workforce trends with added emphasis on findings from the 2021 Florida Workforce Needs Study and the goals and objectives of the recently launched Florida Chamber "Future of Work" initiative. Some very interesting data was shared including that there are 550,000 open jobs with 466,000 potential employees looking for jobs. He shared that 1 in 4 people are looking for a remote/hybrid work option. The Florida Chamber has a plethora of useful data. If you have not visited their website recently, you should add it to your to do list.
Justin Swartz, Esq. from Jackson Lewis P.C., Dee Anna Hayes, Esq. Ogletree Deakins and Jonathan Ross, SHRM-SCP, SPHR, District Director presented the process and life cycle of a bill. They shared the importance that advocacy plays in the bill process and how to better focus your advocacy efforts depending on the current status of a bill.
Every year, current pending workplace legislation is discussed, and HR Florida State Council's position is shared with attendees. This year, out of 64 workplace related bills, the focus was on 37 that appeared to have potential of moving through the process. Amanda Simpson, HR Florida Director of State Legislative Affairs, and Justin Swartz, both attorneys from Jackson Lewis, P.C., did a great job explaining the intent of the bills and how they would impact the HR Florida community should they pass.
For the first time in the history of the conference, we were honored to hear from a retired lobbyist, David Mica. David shared his knowledge about the role and importance of advocacy in the legislative process. He provided guidance on the best way to build lasting relationships with legislators. In addition, he shared the importance of communicating effectively to ensure that the proper message is conveyed.
The day came to a close with an informative role play starring Chad Sorenson, SHRM-SCP, SPHR, HR Florida President, Mike Owens, SHRM-SCP, SPHR, District Director, and Shayla Walden, Esq, Jackson Lewis, P.C. The presentation gave examples on meeting with legislators, how the conversation may go, and the best way to navigate the discussion.
On Day Two, the conference attendees went on to the Capitol for legislative visits with representatives and senators from their individual districts. Participants shared information about themselves, their employer, and the personal impact of pending bills. If appropriate, they offered suggested changes to bills that would better support employees and employers. The day ended with a debrief on how the discussions went. A few attendees shared a summary of their meetings and were left encouraged by the discussions.
Please remember that you can be an HR Advocate. Through the SHRM Policy Action Center, you can sign up to be a member of the SHRM A-Team. As an A Team member, you can ensure the voice of HR is heard by policy decision-makers via a "local network."