HR Florida Chapter Membership
By Eve Sweeting, MBA, SHRM-CP, PHR, Membership Director
Are you a member of your local chapter? I asked ChatGPT why Florida HR professionals should join their local SHRM-affiliated chapters, and it came up with 4 great reasons!
Networking Opportunities
Joining a local SHRM chapter in Florida opens the door to extensive networking opportunities within the HR community. These chapters bring together professionals from various industries, allowing for valuable connections and knowledge-sharing. Networking events, workshops, and conferences organized by SHRM chapters provide a platform to exchange ideas, discuss industry trends, and collaborate on common challenges. By connecting with peers and industry experts, HR professionals can expand their professional network, gain insights into best practices, and potentially discover new career opportunities.
Professional Development
Local chapters offer a wide range of professional development resources tailored specifically for HR professionals. Members can access workshops, seminars, and training sessions conducted by experienced practitioners, providing opportunities for skill enhancement and staying updated with the latest industry developments. Many chapters also offer certification resources, such as study sessions for the SHRM-CP and SHRM-SCP, which can enhance professional credibility and career prospects. By participating in these development programs, HR professionals can continuously improve their knowledge and expertise, ensuring they remain at the forefront of their field.
Advocacy and Legislative Updates
SHRM chapters actively advocate for HR professionals' interests at both the state and national levels. They monitor legislative changes and keep members informed about evolving HR laws and regulations. In Florida, being part of a local SHRM chapter provides a platform to voice concerns, collaborate with policymakers, and influence HR-related decision-making processes. This access to advocacy efforts ensures that HR professionals are up-to-date with the latest legal requirements and can effectively navigate the ever-changing HR landscape.
Community Engagement
SHRM chapters foster a sense of community among HR professionals in Florida. Through volunteer initiatives and community outreach programs, members can make a positive impact beyond their organizations. By engaging with like-minded professionals, HR practitioners can contribute to the advancement of the HR profession and the betterment of their local communities. Additionally, being part of a community allows for the exchange of ideas, support during challenging times, and the opportunity to collaborate on projects that benefit the HR field as a whole."
I couldn't have said it better myself! Joining a local chapter has been incredibly beneficial both for my career and for me personally. The networking opportunities, professional development resources, and community engagement provided by our 28 chapters create an enriching environment to grow, learn, and make a positive impact in their profession and community. Visit https://www.hrflorida.org/page/2023-5ChapterDirectory to find a Chapter near you!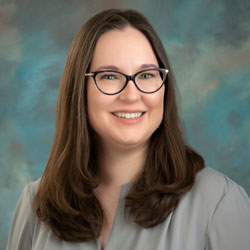 Eve Sweeting has over 15 years of experience as an HR professional in private and public sector organizations. Currently serving as the Performance and Accountability Officer for the City of North Port, Eve coordinates departmental and organization-wide performance management and process improvement efforts. She holds an MBA from Florida Gulf Coast University and an MA in Adult Education with a concentration in Human Resource Development from the University of South Florida. Eve is an active member in the HR community having served on the board of Charlotte County SHRM for five years including a term as President in 2012, completing a two year term on SHRM's Young Professional Advisory Council (YPAC) in 2013-2014 and serving on the HR FL State Council in various roles since 2017.