Community Spotlight – District V Rocks!
By Leigh Jacobs, CEBS, SHRM-SCP, SPHR, District 5 Director
Greater Orlando SHRM (GoSHRM), Volusia/Flagler SHRM (Volusia/Flagler) and Space Coast Human Resources Association (SCHRA) are District V Rock Stars! All three chapters received the 2022 EXCEL Platinum Award from SHRM. One returning veteran President and two rookie Presidents, what are they going to do to top 2022? Let's take a dive into District V!
Currently, (as of 8/21) all three District V Chapters are in the top 5 fundraisers for NAMI! Volusia/Flagler sitting at #1 with $3,580; SCHRA at #2 with $1,615 and GoSHRM at #4 with $789!
GoSHRM has two main initiatives for 2023: Promote the HR Profession through the launch of the marketplace webpage Home – GOSHRM HR Marketplace (constantcontactsites.com); and deliver their GoSHRM HR Podcast "Gut Check" which provides support tools for HR professionals and promotion of the Mental Health certification for HR Professionals. GoSHRM has a sponsor partnership with Dwight Bain for the Mental Wellness Skills shop being facilitated throughout Florida and they have partnered with the Special Olympics for "Race for Inclusion in October.
Space Coast HR Association (SCHRA) is enjoying a year of great growth with meeting attendance up 39% and 11 new members added to the chapter since January. They have been mindful with their focus on Wellness and Self Care by implementing a Wellness Coaching segment at each of their monthly meetings. The awards just keep coming for the smallest of the three chapters in District V, with their Immediate Past President Alan Bernstein, SHRM-SCP being named HR Florida Volunteer of the Year as well as a finalist for the HR Florida Professional of the Year. Additionally, they were awarded the "Party Area" during Monday Night's expo for the increase in the number of HR Florida Conference attendees.
Volusia/Flagler will again keep their focus on the Community in 2023 and have set their sights on taking home the Community Impact Award for a second year in a row. They have raised over $10,000 this year for charity organizations, partnered with the Daytona Chamber of Commerce and Career Source to form a Taskforce identifying shortages in the workforce to help bridge the gap, created a DE & I Scholarship initiative for National and Local membership, they are participating in a Soft Skills Youth Summit in November to help high school seniors get ready to enter the workforce and have increased their meeting attendance by 50% over last year! They absolutely crushed it at the HR Florida Conference, winning Most Creative SHRM Foundation Raffle Basket, #1 Best Ambassador Project – Chapter Scrapbook, and Highest Fundraising Chapter for NAMI, raising $4,313.02.
Thank you to Pam McGee, SHRM-CP, PHR, MBA, Suzanne Witenhafer and Tawnya Titus, SHRM-CP, CSP for your time, talent and service to the HR Profession. It has been a pleasure watching you soar!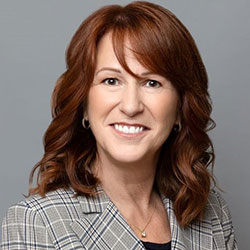 Leigh Jacobs is an Employee Benefits Consultant for USI Insurance Services.  She uses her 30 years of knowledge and the USI ONE™ (a proprietary platform integrating analytics, networked resources and strategic planning) to create highly customized benefit programs with a focus on people, culture and cost efficiency.    
An involved member of the community, she currently serves as the Director of District V for HR Florida and Past Board Chair for Operation New Uniform. 
She has a Bachelor of Science degree in Healthcare Management from Southern Illinois University.  She has earned the Certified Employee Benefit Specialists (CEBS), Senior Professional in Human Resources (SPHR) and SHRM Senior Certified Professional (SHRM-SCP) designations. Additionally, she holds both Life & Health and Property & Casualty licenses through the Florida Department of Financial Services.