District 8 Shines Like Diamonds!
Stephanie Deiter, MBA, SHRM-SCP, SPHR
District 8 Director
The month of January is an interesting time of year. It allows us the opportunity for reflection of the past while providing a space for hope of what is to come. For many, it's a chance for a fresh start, full of possibilities and desire to refocus and realign personal and professional priorities. While some may say you can't move forward by looking in the rearview mirror, there are others that would argue it is those past experiences that make us stronger, drive us to persevere and work harder. I have to say, for me it's those past experiences that help me to learn and grow.
In the past year, many of those who live and work in Southwest Florida experienced challenges like none other. As we celebrated the return to the "new normal" in our chapters following the pandemic, our resilience was yet again tested when Hurricane Ian landed on our doorsteps. From Charlotte to Collier County, the devastation impacted many of us in our personal and professional lives. And yet, through it all, we saw people coming together and communities grow stronger. The three chapters of District 8 were no exception. They shined like diamonds as they once again pulled together to serve one another, manage their own personal challenges, and served their workplaces and communities.
Throughout the past year and into the new one, Charlotte County SHRM, SHRM SWFL, and HR Collier leaders have been laser focused on making an impact. Their collective efforts have been instrumental in providing an environment of professional development for Human Resources professionals while also serving their communities with intention. They have conducted in-person and virtual events, hosted subject matter experts to educate business leaders, planned social events to promote fellowship among members, and given of themselves to share their expertise with the next generation of community leaders. Charlotte County SHRM, SHRM Southwest Florida and HR Collier have formed a strong alliance over the years and are to be applauded for their work both collectively and individually within their own teams.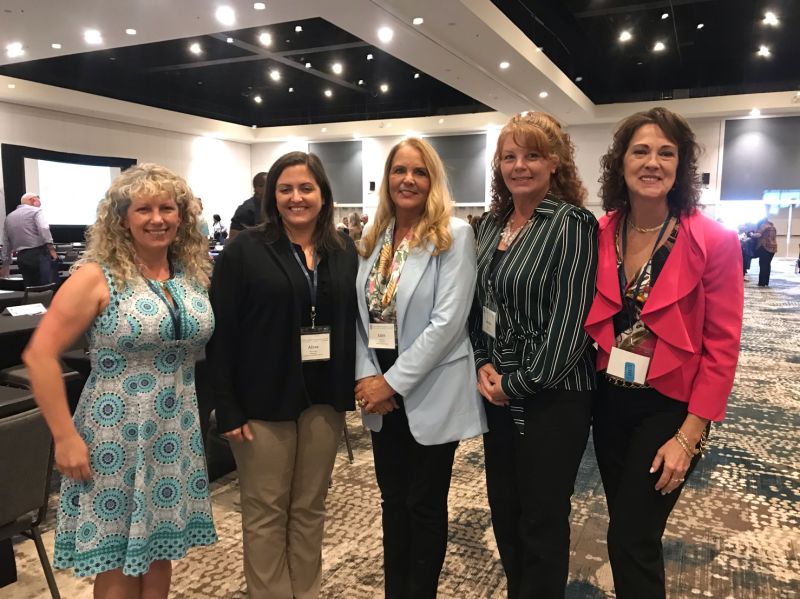 Charlotte County SHRM celebrated their 30th anniversary this year. With three decades of service to professionals and workplaces in their community, their chapter has demonstrated the true meaning of resilience. As a tribute to their legacy of leadership, they have honored and showcased their Past Presidents throughout the year.
2023 initiatives will continue to focus on community outreach. They formed an Economic Development partnership which should result in greater presence at Chambers of Commerce events and provide opportunity for a new community fundraising event. Their programming will provide informational resources to supervisors, managers, and HR professionals in their community on topics to support balance and self-care. Intentional development of committees is also a priority in 2023 to provide more volunteer opportunities for their members. An increased effort on sponsorship, marketing and communications rounds out their strategy to produce new partnership ideas and increase their digital presence.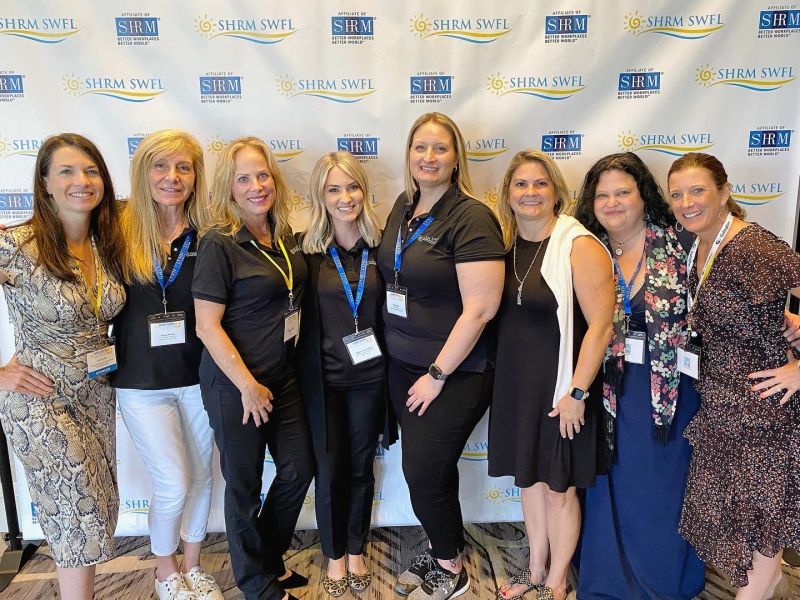 SHRM Southwest Florida, dedicated to engaging and empowering workplaces in Southwest Florida, have now grown from a medium to a large Chapter!
Last year they hosted their second annual SHRM SWFL Summit on May 20, 2022. With member engagement at the top of the list, their team of volunteers coordinated quarterly networking events and new member orientations as a member newsletter. Their 2023 programming roster continues to include valuable programming for their members in a hybrid setting.
Committed to cause, SHRM SWFL developed a Hurricane Relief Fund to aid families and businesses that were affected by Hurricane Ian. Historically, SHRM SWFL held an annual auction to raise funds for the Scholarship Fund. In lieu of that they raised monies to support three local organizations assisting their community.
And last but certainly not least, they continue to build their relationship with the Fort Myers Chamber of Commerce as they collaborated on the joint networking initiative "Sip, Share & Connect".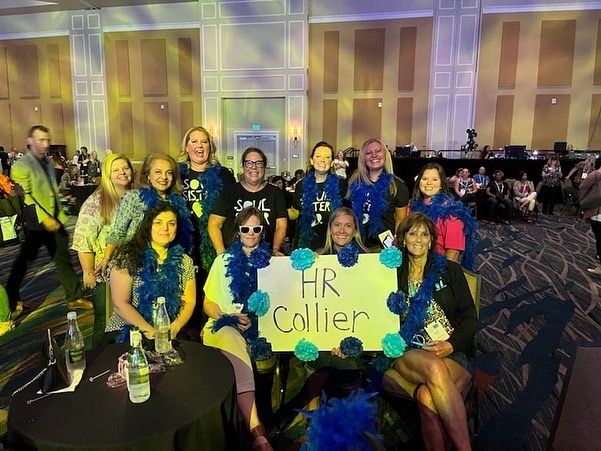 The third chapter in District 8 is HR Collier. True to their mission of providing ongoing education, leadership, communication and networking opportunities to the human resource professional, HR Collier excelled in community outreach in 2022. As one of their primary initiatives for the past two years, they have several notable accomplishments.
Recognizing a need to support high school and college students in their community, chapter leaders volunteered to conduct resume reviews at numerous job fairs and local universities. They committed themselves to mentoring high school students including leading practice interviews and resume reviews. Their recent collaboration with CareerSource of Southwest Florida will aid in expanding HR Collier's reach and continuing their service to the next generation of community leaders.
For the second year in a row, they organized an Annual Conference in partnership with Charlotte County SHRM and welcomed business professionals for a day of professional development. Hosting well known names in the industry, their program was educational and inspiring. Truly committed to making a difference, HR Collier has given back to their community and continues to advance the HR profession. In 2022, they were awarded the status of SHRM Learning System Champion for the fourth year in a row!
These amazing efforts are just a few of the highlights of the great work being done by chapter volunteers throughout the state. Let us recognize and thank them for stepping up during a time when so many faced challenges of their own. The size of their hearts truly can be measured by the depth of their commitment to building better workplaces in their community and making a difference in the lives of those in it.
"Let our New Year's resolution be this: We will be there for one another as fellow members of humanity, in the finest sense of the word." – Göran Persson
Well done District 8!