District 3 Spotlight
By Nate Shannon, District 3 Director
District 3, comprised of SHRM-affiliated chapters in Ocala, Gainesville and Jacksonville started out with two of its three chapters concerned with effective succession planning for the years ahead. However, since then, the current leadership in those chapters persisted, and now all three are on a positive track for the future. Here's a few other highlights thus far in 2022: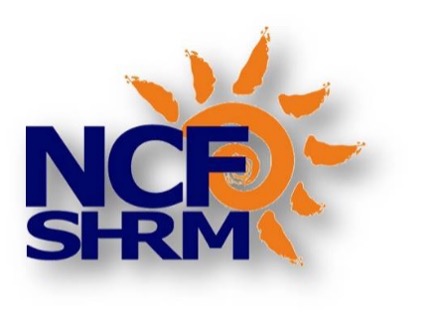 North Central Florida SHRM (NCFSHRM) in Gainesville, A SHRM Excel platinum designation three years in a row led by Kelly George, SHRM-CP, PHR, is leading an effort to re-tool its future leadership and refresh its chapter membership value proposition. As such, George partnered with the College and University Professional Association for Human Resources (CUPA-HR) current president, Julia Seay, who is also with the University of Florida (UF). With the support of HR Florida's support, George and Seay co-hosted a networking event for area HR professionals in the area seeking to serve. Part of that chapter membership value proposition will be to tap into UF's HR community so they may see the value of a SHRM membership. HR Florida featured CUPA-HR at its State Conference to begin connecting HR communities across the state.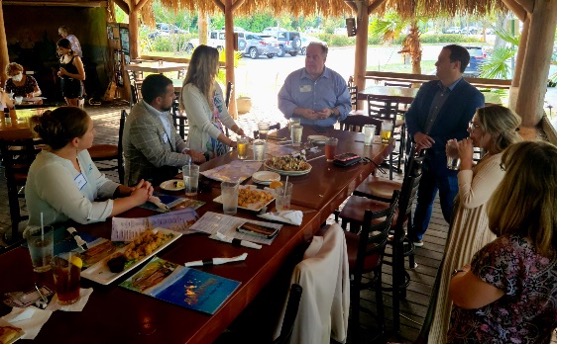 NCFSHRM JOINT CUPA-HR EVENT PHOTO
Other NCFSHRM highlights include their annual conference in April featuring several well-known speakers including HR Florida's President Chad Sorenson, District Director Tom Topping, and Scott Segal of USI Insurance. Topics included employee engagement, preparing the workplace post-COVID, and ethical issues in Human Resources, which met the new ethics recertification requirement for HRCI.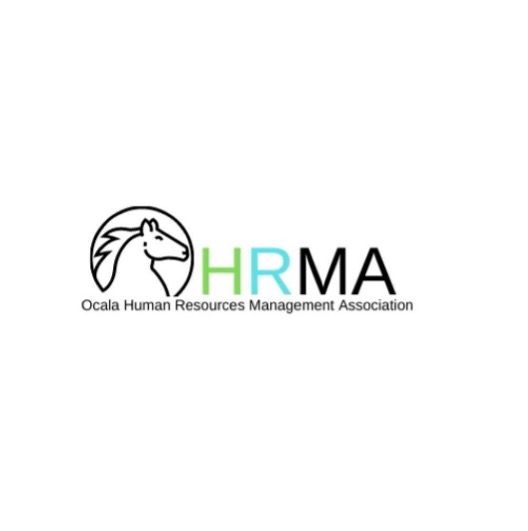 A SHRM Excel Bronze designation in 2022, led by President, Donna Healy-Strickland, the Ocala Human Resource Management Association (OHRMA) serves the Marion County community – officially name the Horse Capitol of the World in 2007. OHRMA recently refreshed its logo to adequately capture the spirit of the Ocala/Marion Country community.
Understanding timely programming is critical to the primary service our chapters provide, OHRMA leadership took note of recent tragedies within the nation, as well as local litigation currently underway due to a "training gone wrong." They recognized the need for professionals within their community to understand the tools and methods needed for a successful active shooter training.
President-Elect, Ashley Shorb, Human Resources Director at Hospice of Marion County recently participated in a company-wide active shooter training, complete with moulage and actors. The realistic event spanning multiple business campuses and companies, was led by Ken Smithgall, Vice President of Sentinel Crisis Solutions. Shorb and their programs chair joined forces to deliver a similar program to OHRMA members.
Being the chapter with strong board succession, including in membership, we're hopeful OHRMA can migrate to SHRM's Dual Membership Release (DMR) in 2023 where both chapter and SHRM memberships are processed in one.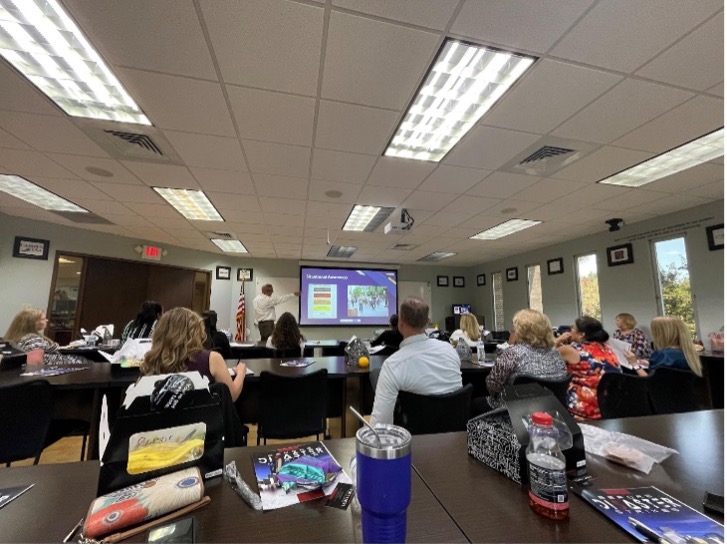 OHRMA ACTIVE SHOOTER PHOTO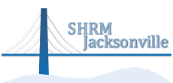 SHRM Jacksonville is led by President Heather Cosgrove and a highly dedicated Board of Directors. Their mission is Advancing the Human Resource Profession for the Northeast Florida business community. Their vision is to be recognized as the premier thought leader for impactful Human Resources in Northeast Florida. The chapter continues to implement their strategic plan focusing on Chapter Programming, Membership, Volunteers, Marketing and Partnerships with other Organizations/Associations. Strong evidence of their commitment to their mission and vision is the chapter's receipt of the SHRM Platinum Excel Award, SHRM's highest award for membership, and the third year in a row for such recognition.
The chapter continues to meet and exceed their goals by increasing the number of high-quality in person and virtual education and development offerings for both membership and the NE Florida business community. This year, they have held seven in-person and six virtual recertification events for their members resulting in over 16 SHRM and HRCI credits so far this year. They have also hosted an 8-hour People Manager Training and Mental Health in the Workplace Training to support local leadership.
Recognizing a need to assist those who were in transition, the Workforce Readiness committee continues to partner with Career Source, NE Florida and the Jacksonville Urban League for a Career Talk Job Seekers series. So far, they have held four sessions and had over 250 people register.
SHRM Jacksonville has also been active in the community this year. The board volunteered at Feeding NEFL and the Hubbard House this Spring and will have more volunteer events for the membership this Fall. They hosted a family fun night with the Jacksonville Jumbo Shrimp and a held a membership appreciation/fundraising event with the Jacksonville Jaguars with over 110 attendees where they raised over $1800 in support of the SHRM Foundation.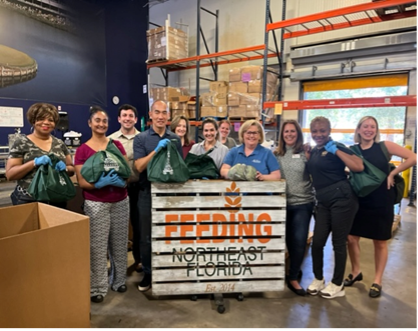 SHRMJAX FEEDING NEF PHOTO
The chapter continues to influence change in the community through their strategic partnerships with local organizations such as, Career Source NE Florida, Jacksonville Urban League, Onward to Opportunity, the Jacksonville Chamber of Commerce, and the Jacksonville Business Journal. This year they were honored to continue their partnership with the JBJ and Bank of America in support of the HR Impact Award in NE Florida recognizing outstanding HR Professionals in their area.