Congratulations to the Student Case Competition Winning Teams!
Earlier this month, HR Florida State Council, Inc. held the 2023 Student Case Competition. Undergraduate and Graduate teams from throughout Florida (and one from Georgia) prepared an Executive Presentation of a challenging HR scenario that could be resolved in a multitude of ways. The competition consisted of three parts – a 2-page written Executive Summary, a PowerPoint reviewing the essential facts/potential solutions, and a 15-minute oral presentation where, in addition to sharing their suggestions, the students fielded questions from the judges.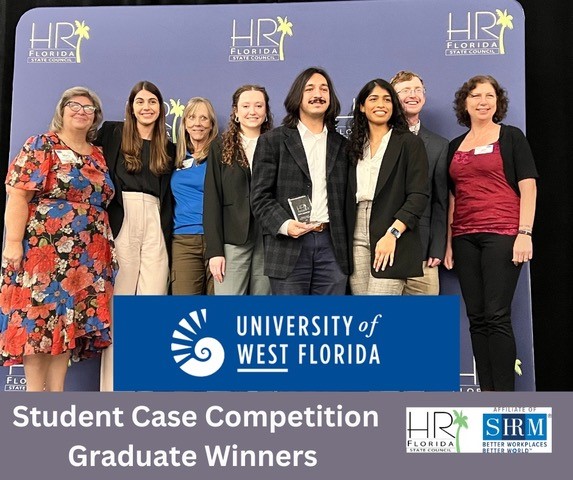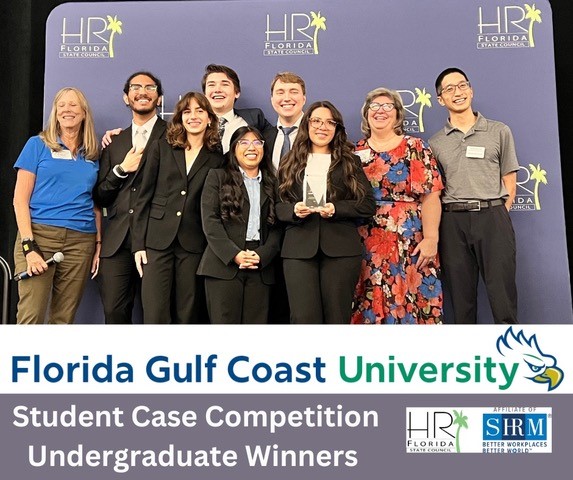 People often ask why we volunteer and this is why – in one day, not only did we have an impact on these students who will be entering a field near and dear to me by giving them valuable feedback in a non-threatening, low-risk environment – but these students had just as much of an impact on us! Their preparedness and thought process was FIRST CLASS! They definitely kept the judges on their toes!
So here are some shout-outs. Carol Lang, thanks for stepping in and making this an awesome competition! Georgette Cartagena, thanks for your help with the day and your commitment to Emerging Leaders for HRFL! And to our judges (Aimee Clements, Erin Tuttle Richards, Crystal Palacios, Tanya Franklin, Mimi Tran, and Kaitlyn Carl) this event COULD NOT have happened without you – your excitement with and feedback to these students will have a lasting effect. THANK YOU!