Community Spotlight – District 7
By Dawn Laidlaw, SHRM-SCP, SPHR, District 7 Director
District 7 is comprised of the Sarasota-Manatee Human Resources Association (SHRA), HR Tampa and Suncoast HR.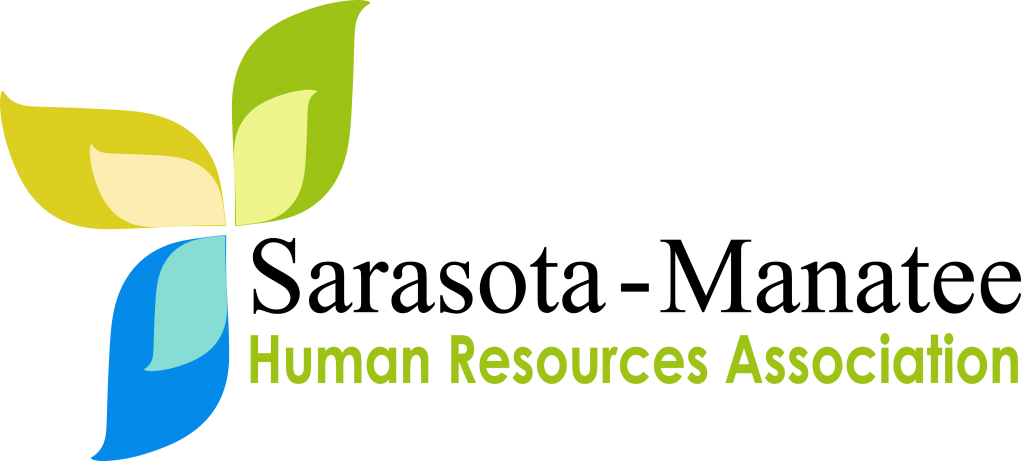 Under the leadership of Chapter President Roseanne Gutman, SHRM-SCP, SPHR, the Sarasota-Manatee Human Resources Association celebrated their 60th Diamond Anniversary in 2023. Their annual conference was held in September with special guest Jon Petz, where awards were presented to Lori Scott as SHRA Volunteer of the Year for leading the Community Outreach Initiate, Patrick Alexander, SHRA's HR Professional of the Year, and Amy Rylott of Charter Communications/Offline Customer Support received the 2023 SHRA DE&I Award.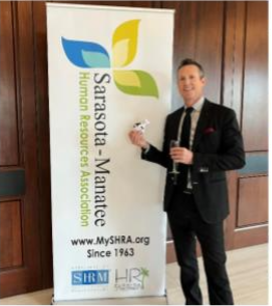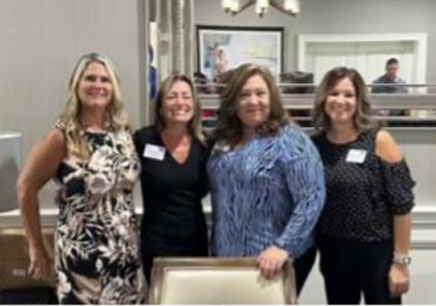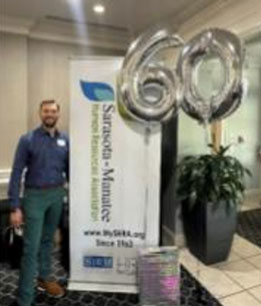 In their community, SHRA members participated at the "Cross College Alliance" Career Exploration event at New College in Sarasota, coaching students on resume writing and interview skills.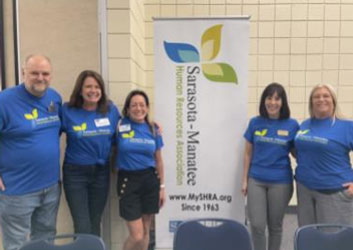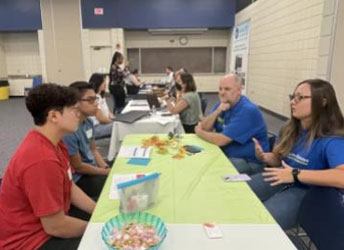 SHRA volunteers were panelists at Harvest House, addressing issues such as job interview skills, applications/resumes, finding the right fit, and what to do if you have a poor job history. Harvest House residents are supported as they overcome financial, food, and housing insecurities. There were about 30 people in attendance, and the group was engaged, asked questions, and shared stories about their own personal job seeking experiences.
Rounding out the year, SHRA's Board met for some fun and Axe Throwing, and got together for a team dinner at the 2023 HR Florida Leadership Conference, where Board Members Shannon DiMatteo and Kyle Rogers presented a breakout session focused on membership, sharing tips and tricks, especially SHRA's recent experience with becoming a Dual Member Release Chapter in 2023.
For more information regarding the Sarasota-Manatee HR Association and their upcoming events, please go to www.MySHRA.org.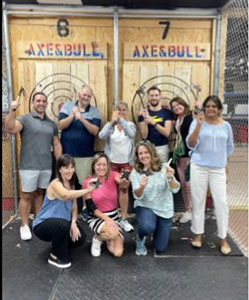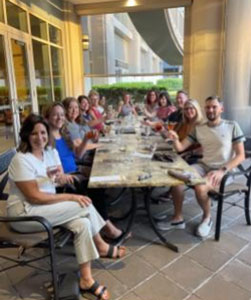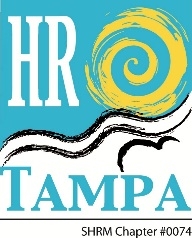 HR Tampa has had an impactful year under the leadership of Chapter President, Carol Brnich, SHRM-SCP, SPHR. A proud recipient of the SHRM Platinum Excel Award for 2022, they were one of the TOP 25 (#5) SHRM Foundation fundraising chapters, and were selected by SHRM to host a regional SHRM Better Workplaces Challenge Cup for the second year running.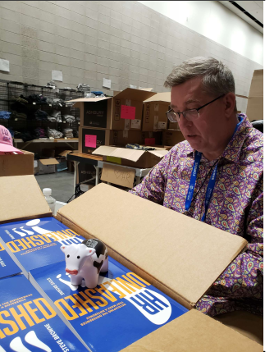 In addition to their comprehensive monthly meeting/program schedule, they held an assortment of mixers and activities which included lunch at Fat Beet Farm, a bowling mixer, Brick House mixer and a Perry Harvey, Sr. Park History Through the Arts Tour during Black History Month. They continue their wonderful HR Department of One virtual series, the 1st Thursday of every month, and the HR Tampa Book Club meets the fourth Tuesday of each month, with the Chapter purchasing copies of October's book "HR Unleashed!! Transforming HR from Support Role to Strategic Leader," by Steve Browne, and providing participating members with autographed copies.
HR Tampa's commitment to Certification continues, adding the SHRM Workplace Investigations Specialty Credential to their program offerings. They also added the Mental Health First Aid Certification with 17 members certified in this inaugural training. They hosted four SHRM CP/SCP Crash Courses, one HRCI Crash Course in addition to the SHRM-SCP/CP Exam Preparation Course. Their Conference & Expo was held in October at the USF Marshall Center, with 350 attendees, 32 sponsors, 19 speakers and offering 10.5 recertification credits.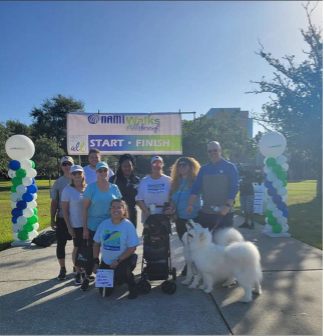 In the community, HR Tampa members have volunteered at Pet Pal Animal Shelter (in a partnership with SuncoastHR), NAMI Walks Hillsborough, and Christmas Angels (a joint community activity with SuncoastHR) at their November Chapter meeting, providing holiday items to children in need.
In 2023, HR Tampa launched a Self-ID campaign, crucial to building a starting point for HR Tampa's Diversity & Inclusion strategy, with a goal to have the HR Tampa membership mirror the community in which they serve. They have 14 members serving on the Diversity Committee, launched new community partnerships with the Florida National Diversity Council, NAMI Hillsborough, Tampa Bay Crisis Center, Florida Diversity Council and the Tampa Bay History Center, and HR Tampa's Directory of Diversity, Michele (Chelly) Conley, was awarded Tampa Bay Business Journal 40 under 40 for her great work.
In recognition and celebration of all the work the HR Tampa Board of Directors does throughout the year, they visited the local Escape Room in Tampa, who played host to their Board meeting and then a challenge to 'escape' afterward.
To learn more about HR Tampa and upcoming programs, please go to www.HRTampa.org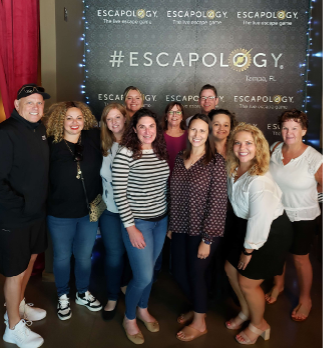 SuncoastHR has had an amazing year, under the leadership of Chapter President Amber Rees, SHRM-SCP, PHR, who was honored this year as the HR Florida State Council's 2023 HR Person of the Year.
Throughout the year, SuncoastHR has made a concerted effort to support the District 7 Sister Chapters, hosted a fun game night for new members, successfully organized an impactful conference, and enjoyed a lively Summer Shenanigans social event along with several other socials. They have hosted engaging and informative Chapter meetings and programming, and have fostered teamwork through events such as hosting a board meeting at a Tampa Bay Rays game. Additionally, they have revitalized their member communications for better engagement, through a complete redesign of their monthly newsletter and e-mail communications.
Their members have impacted their community by serving 148 hours with the SPFC Stamp Our Hunger, Clothes to Kids Annual Polo Charity Classic, and PetPal. They conducted valuable resume reviews for those in their community. They have raised over $6,700 for SPFC, SHRM Foundation & NAMI, and established a valuable partnership with the Wellness Council of Tampa Bay.
SuncoastHR is a proud recipient of SHRM's Gold Excel Award and the HR Florida State Council's Chapter Excellence Award for their contributions to the SHRM Foundation.
Above all, the board and members of SuncoastHR pride themselves on HAVING FUN! For more information about SuncoastHR and their upcoming events, please go to www.SuncoastHR.org.
Thank you to all the volunteer leaders of the District 7 Chapters, and congratulations on your combined successes of this year. You have made my first year as a District Director a truly memorable one.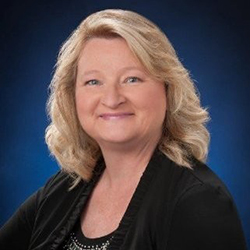 District 7 Director is Dawn Laidlaw. Dawn is a Past-President of the Sarasota Manatee HR Association, having previously served as their Certification Chair, Membership, Vice President and President-Elect. Dawn holds a bachelor's degree from Canisius University in Buffalo, New York, and holds the SHRM-SCP and SPHR certifications. Dawn is the HR Officer at Willis Smith Construction in Sarasota, where she is an "HR Department of One."