June 2023 Newswire
June 2023
SERVING THE PROFESSIONAL
The Great Migration to Jobs with More Connection and Meaning
By Jason Walker and Rey Ramirez
What is more meaningful than connection? Employers who wish to keep their best talent happy must pivot and find ways to relate to their employees in a compassionate way that allows them to know their work has meaning to the company and if possible, society. Read More
---
Effective Leadership in a World of Artificial Intelligence
By Doug Van Dyke
In this article, we examine a broader perspective of Artificial Intelligence (AI). Yes, yes there is a sample AI policy for your consideration later in this piece. We begin in a moment with a look at Neural Language Models (NLLMs), then we do a deep-dive on AI, and we end with a quick comment on Artificial General Intelligence (AGI). Clearly, this is our geekiest article ever. Read More
---
Toyota's Leadership Development Is A Masterclass In What To Do
By Mostafa Sayyadi and Michael J. Provitera
An applied solution to the leadership development dilemma is a common interest point for all companies. Toyota's way can teach us how to develop leadership more effectively. This article is a road map to improve the effectiveness of leadership development and build a more stable future for companies across the globe. Read More
---
Mental Health Awareness: Words Matter
By Kim LaMontagne
Words can empower, inspire, uplift, and heal. Words can also disempower, wound, humiliate, and shame. Words matter. Talking about mental health and mental illness can feel like you're stepping into a linguistic minefield, never sure if there's a right or wrong thing to say or way to talk about it. Read More
— HR CONNECTIONS —
Moment of Inspiration
"I never lose. I either win, or I learn." — Nelson Mandela
Provided by Rebecca Pratt – Member Engagement Associate (MEA), SHRM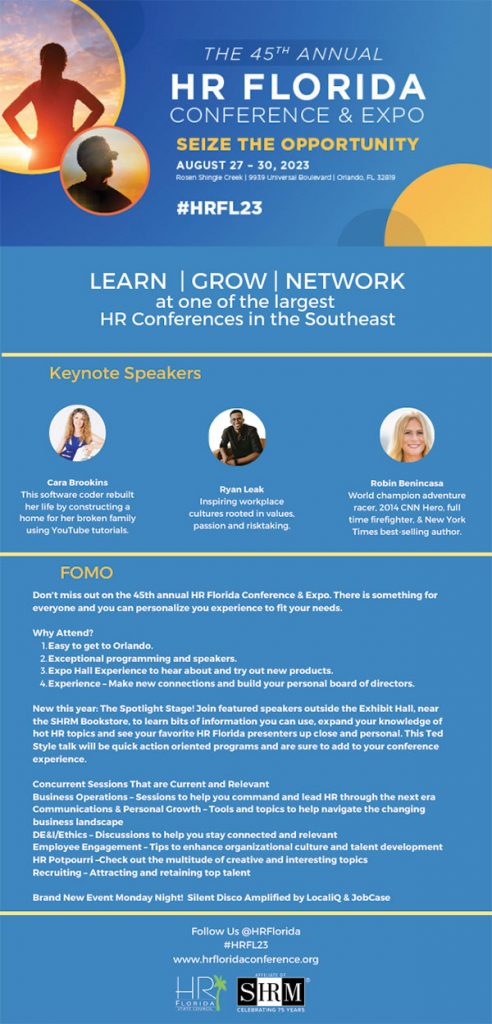 Villyge Supports the "Whole Person"
Empathic leadership is critical to setting the stage to drive productivity, culture and DEIB forward. And when budgets are tight for HR, empathy can be your secret weapon. Read more…
---

SHRM Foundation's Human Resources Registered Apprentice Program
Are you challenged by finding entry level HR talent? Are you looking to diversify your HR team? Do you want to reduce turnover? Do you want to invest in talent and have a positive return on investment? The HR RAP can provide this and more! Read More.

ADVANCING THE PROFESSION
HR Florida is a community of 28 professional chapters and a growing number of student chapters organized into 10 districts. Each month we bring you information from around the state so you can stay informed on upcoming meetings and conferences. Chapters work hard to provide timely, exceptional educational programs, often for recertification credits, and welcome you to attend as a member or as a guest! If you are not a member of a local chapter, visit 2023 Chapters & Chapter Presidents – HR Florida State Council to find a Chapter near you.
HR Florida Professional of the Year nomination deadline is June 24, 2023
Sponsored by Fisher Phillips
This annual award recognizes a human resource leader who has advanced the profession in a significant way. "Best in class," the individuals nominated for this award serve as role models for the profession by setting the standard for others to follow and apply their expertise to enhance organizational effectiveness. Nominate Here!
Explore all HR Florida Awards and Recognition opportunities along with guidelines and past winners here: Awards & Recognition – HR Florida State Council.
DISTRICT SPOTLIGHT
District 2: Title Pending
By Mike Owens, SHRM-SCP, SPHR, District Director
Article to come. Read More
UPCOMING LOCAL CHAPTER EVENTS
| | | | |
| --- | --- | --- | --- |
| 6/20/23 | General Meeting | Hosted by OCALA HRMA | Learn More |
| 6/20/23 | Let's Have a Good Time Understanding and Using Diversity, Equity, and Inclusion | Hosted by SPACE COAST HRA | Learn More |
| 6/21/23 | Half Day Conference with Tony Moore | Hosted by VOLUSIA FLAGLER SHRM | Learn More |
| 7/12/23 | Christin Collins – Frazzle to Dazzle | Hosted by FL KEYS SHRM | Learn More |
| 7/12/23 | Organization Design – (How HR can deliver strategic consultation that support changes or improvements to key org design issues) | Hosted by SUNCOAST HR | Learn More |
| 7/13/23 | JUL 2023 Mid-Year Legal Update | Hosted by SHRM JACKSONVILLE | Learn More |
| 7/13/23 | Planning your Workforce – Just Like Dancing With The Stars | Hosted by SOUTH BREVARD SHRM | Learn More |
| 7/14/23 | The New SECURE Act 2.0: Legislative Changes to Retirement Plans | Hosted by SHRM JACKSONVILLE | Learn More |
| 7/18/23 | Diversity and Inclusion | Hosted by OCALA HRMA | Learn More |
| 7/20/23 | Dealing with the Hazy Issue of Marijuana in the Workplace | Hosted by HR MARTIN SHRM | Learn More |
| 7/21/23 | HRABC Health & Wellness Mini-Conference | Hosted by HR ABC | Learn More |
| 7/21/23 | 3rd Quarter New Member Orientation & Volunteer Open House | Hosted by SHRM JACKSONVILLE | Learn More |
| 7/27/23 | JUL 2023 CareerTalk | Hosted by SHRM JACKSONVILLE | Learn More |
If you are an affiliated chapter within the state of Florida and wish to post an event, please email Kathy Scott at Kathy.Scott@hrflorida.org.
UPCOMING HR FLORIDA EVENTS
Interested in volunteering at this year's conference? Go to #HRFL23 Volunteer Interest Form
UPCOMING SHRM NATIONAL EVENTS
Earn Your SHRM Certification
Certification grant application window closes June 7!
HR Florida recognizes the importance of Human Resources professionals obtaining their SHRM certification. Obtaining a certification can be a valuable step for HR professionals to advance their career and demonstrate their mastery of the field. We support Florida HR professionals by offering SHRM certification professional development grants aligned with SHRM's fall and spring testing windows. Grant recipients receive financial support for the purchase of the SHRM Learning System and exam testing fees.
Professional development is a key step to advancing your career, and financial assistance can certainly help alleviate some of the costs associated with obtaining your certification. If you have been thinking about obtaining your certification NOW is the time to take advantage of this opportunity.
Take the next step in your career and apply for the certification grant today! For more information, please visit HR Certification – HR Florida State Council.
ADVERTISE HERE!
Fellow HR Professionals: Did you know sponsored content is 22 more times more engaging than display ads? Contact us today to learn how to get started.
hrflorida@theygsgroup.com
717.430.224
EDITORIAL SUBMISSIONS
We hope you enjoy our selections of original content, local and national updates, and news you can use. Please let us know what you think! Send to communications@hrflorida.org. All comments are welcome and encouraged!
HR Florida Review Magazine
Share your expertise as an HR professional with over 16,000 other HR professionals! Encourage colleagues to submit articles too. We are currently looking for content on topics ranging from Employee Relations, State & Federal Compliance, Inclusion & Diversity, Leadership, Organizational Development, & any other Best Practice Advice for HR Professionals.
Submit an article for our next issue!
---
HR Florida Newswire
Purpose: Share upcoming events, announcements, and recent news relevant to HR professionals and Chapter members.
Style: Brief, direct, summarized information (pictures appreciated).

Submission deadline: The 3rd Wednesday of each month, for the following month's newswire.
Format: Send submissions in Word format to Alan Bernstein at editor@hrflorida.org.
---
Mouth of the South Blog
Share your interesting stories/tips from the HR Profession. Published at hrmouthofthesouth.org.
Submissions: ONGOING