2023 HR Florida Leadership Conference President's Award: Stephanie Norment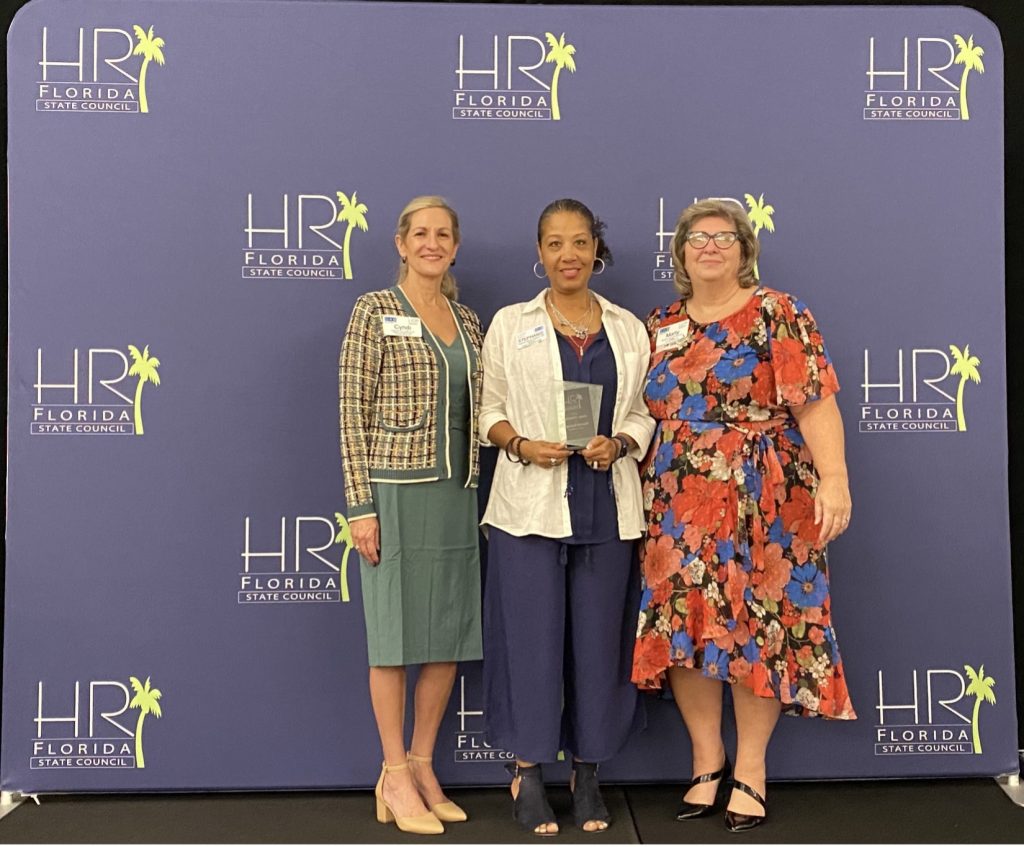 Today, we honor an exceptional leader, someone who has not only demonstrated outstanding leadership but has also brought about remarkable changes and achievements in their community. It is with great pleasure and admiration that we present this year's President's Award to Greater Pensacola SHRM Chapter President Stephanie Norment for her extraordinary contributions to her chapter and the indelible mark she has left on the communities the chapter serves.
Under her altruistic leadership, the chapter has truly shone brightly, reaching out to various segments of their community and leaving an indelible mark. This President's dedication to making a positive impact on the lives of others has been nothing short of inspiring. The chapter has flourished, becoming a beacon of hope and support for various segments of her community. Her passion for community engagement and empowerment has resulted in a multitude of impactful initiatives that have touched countless lives.
One of the standout achievements of her leadership is the chapter's incredible commitment to community service. They initiated a 100-hour volunteer commitment challenge, which not only engaged the membership but also exceeded its goal. Through partnerships with numerous youth organizations and initiatives like mock interviews, resume preparation, and mentoring, the chapter has empowered young minds and fostered a sense of responsibility within the community. The chapter has been a staunch advocate for causes such as the "Know Child Abuse Campaign," raising awareness about child abuse and its impact on workplaces. They have mentored school-age girls through the SALT program, fostering leadership and life skills development.
In addition to their youth-focused endeavors, the chapter has extended their benevolence to senior citizens through collaborations with the Council on Aging, raising funds for the Senior Companion Program. They have also taken significant steps in addressing diversity, equity, and inclusion issues in the workplace, showing their dedication to creating better and more inclusive workplaces.
In terms of wellness, this chapter President's leadership has transformed the chapter into a model of self-care advocacy. From appointing a local Well Being Works Ambassador to promoting wellness programs and education, the chapter has empowered members to prioritize their health and wellness, both personally and professionally. They've even provided vital training in mental health first aid, further demonstrating their commitment to the well-being of their community.
This chapter President's leadership has extended beyond her chapter. She has actively fostered strategic partnerships with various organizations, enhancing the chapter's outreach and influence. The chapter's strategic planning efforts, along with mission and vision statement revisions, branding improvements, and a communications plan, have reinvigorated the chapter and increased their revenue streams.
In collaborating with CareerSource, the chapter created a Success Guide for veterans and transitioning military members, providing valuable resources for employment seekers. They've participated in career fairs, engaged with local business owners, and provided input on future employer needs in the Northwest Florida Employer Focus Group.
Additionally, her commitment to SHRM certification has been nothing short of exemplary. She has tirelessly promoted certification and the SHRM Competencies, leading to a significant increase in certified chapter members.
This President's leadership style is characterized by her adaptability and her ability to respond effectively to changing conditions. Whether it was finding a new provider for certification courses, securing a permanent venue for meetings, or addressing internal operational challenges, she has demonstrated remarkable leadership skills.
Stephanie is the epitome of a leader who leads by example and inspires others to follow in her footsteps. Her profound impact on her chapter and the community at large is a testament to her dedication and unwavering commitment to making our world a better place. Stephanie's exceptional leadership has made a profound difference, and today, we honor This Chapter President with the President's Award. Thank you for your tireless efforts, your passion for change, and your unwavering commitment to advancing our community and the HR profession. Congratulations to Stephanie Norment, President of Greater Pensacola Chapter.