NOVEMBER 2020
HR Florida Celebrates Successful 2020 Conference!
The HR Florida State Council is proud of its conference team, Council members and all those who helped make its 42nd Annual Conference a success! It was no easy feat planning and then executing this large of an event during a pandemic, but our dedication to our members fueled us. Thank you to those who joined us at the Gaylord Palms Resort & Convention Center as well as those who attended virtually. Read More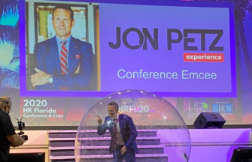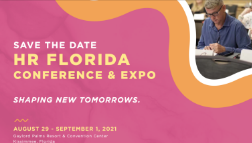 HR Florida Annual Conference & Expo
Early Bird Registration now open!
HR CONNECTIONS
Are you an HR Professional in transition? We're here for you! Sign up to be a member of HR Connections – free of charge – with your HR FL and local FL SHRM Chapter affiliation. Learn More
UPCOMING EVENTS
ADVANCING THE PROFESSIONAL
Corporate Strategy: From Theory to Practice
By Mostafa Sayyadi
Most organizations have plans going well into the future, including strategic goals spanning five to 15 years, while short-term goals are more tactical and are just as important. Read More

520×80
Banner Ad
SHRM 2020 Advocacy@Work Challenge
In the spirit of continued competition…SHRM presents a new challenge for 2020:
SHRM's A-Team is growing and aims to have more than 20,000 members by the end of 2021. Though it is important we educate members on workplace policy through A-Team participation, it's also important that we give members the skills, training, and resources needed to effectively advocate for solid workplace policy and sound strategy within their organizations.. Read More
ENHANCING THE SHRM COMMUNITY
ABLE Network (A Business Leadership Exchange)
The Able Trust is excited to announce the launch of the ABLE Network (A Business Leadership Exchange). The ABLE Network is created to support Florida businesses as they strive for a disability inclusive workforce.
Learn More
Monthly District Spotlight: Featuring District 7
District 7 includes SuncoastHr (Clearwater/St Petersburg), SHRA (Sarasota/Manatee), and HR Tampa. Learn More
Reaffirmation Statements
In order for chapters to remain SHRM Recertification Providers, the point of contact for the SHRM Provider program must submit the annual Reaffirmation. Please contact the SHRM Recertification Provider team at 703-535-6250.
HR Florida Honors Members & Chapters
HR Florida recently recognized several individual and chapter award winners. Learn More
Sponsored content Headline
250 Characters, conet adiaescimo quisint omnihilitias sus.Iume milibusae coreiumque voluptium dus, odi aut enihicipsum estis ut ex et ut omnihit occus custecaturio et alitat.
Url.com
EDITORIAL SUBMISSIONS
HR Florida Review
Share your expertise as an HR professional with over 16,000 other HR professionals! Encourage colleagues to submit articles. We are currently looking for content on various topics, ranging from Employee Relations, State & Federal Compliance, Inclusion & Diversity, Leadership, Organizational Development, & any other Best Practice Advice for HR Professionals.
Submission: Due now for Fall 2020! Still looking for another great article!
---
HR Florida Newswire
Purpose: Share upcoming events, announcements, and recent news relevant to HR professionals and Chapter members.
Style: Brief, direct, summarized information (pictures appreciated).
Submission deadline: First Wednesday of every month.
Format: Send submissions in Word format to Eddie Safille at editor@hrflorida.org

---
Mouth of the South Blog
Share your interesting stories/tips from the HR Profession!
Submissions: ONGOING
520×80
Banner Ad